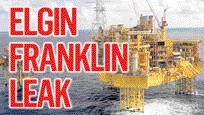 FEARS were raised about the leaking well at Total's stricken Elgin platform four weeks ago, the Press and Journal can reveal today.
The French oil giant has now pinpointed the source of the gas leak – a 13,000ft deep reservoir which was capped a year ago. But within hours it emerged that staff had raised concerns about the well earlier this month.
The company confirmed that they were unhappy with pressure levels "three to four weeks ago" – as trade unions claimed workers' fears had been "fobbed off".
As firefighting vessels continued their vigil near the volatile installation yesterday, a trade union called for the evacuation of up to 200 more people working within a few miles of the Elgin. Unite expressed "deep concerns" over reports that a group of workers had been sent on Wednesday to the Franklin platform, three miles from the evacuated site. The union called for an immediate suspension of deployments of staff to that part of the North Sea, and reiterated demands for the exclusion zone to be extended from the current three-mile radius to five miles.
Meanwhile, the offshore sector was dealt a further blow yesterday with news North Sea oil production has fallen to its lowest level in 30 years.