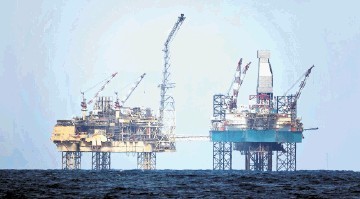 Specialists are on standby to board Total's abandoned Elgin platform tonight and pave the way for a bid to halt the potentially explosive gas leak on board.
A helicopter carrying the team will land on the installation, which is still spewing out about seven tonnes of gas every hour.
It will be the first flight to the platform since all 238 workers were evacuated from it 10 days ago.
Once on board, the team will carry out a "reconnaissance" of the site before attempting to secure the area so that workers can later safely begin a "top-kill" operation, which would involve pumping mud into the leaking G4 well.
A spokesman for Total said that once the team had completed the groundwork another specialist crew would be sent to try to stem the hydrocarbon release.
It is believed Total engineers and personnel from Wild Well Control – the company which helped tackle the 2010 Gulf of Mexico oil spill and Kuwait's raging oil fires – will be the first on to the platform.
The company has held talks with the Health and Safety Executive over the mission, but any decision to board the platform was for Total to make.
Total is also proceeding with a separate plan to create two relief wells to divert the leaking gas, and drilling rigs are already being moved into position.
Initial relief drilling work is expected to begin around April 8, the offshore giant has said.
The subsea mission to stem the flow of gas is expected to take six months to complete.
About 172 tonnes of gas is escaping from the platform each day, coming out from a rock formation below the sea.
It is then escaping into the air from a leak on the platform at the top of the well, about 80ft above sea level.
Total announced on Monday that it was facing a bill of nearly £350million to halt the gas leak.
And the French firm said the emergency shutdown was costing nearly $1.5million (£940,000) a day.
That is likely to rise by another $1.5million a day when work to drill the two relief wells begins.
At one point, the leak wiped more than £5billion off Total's share price.