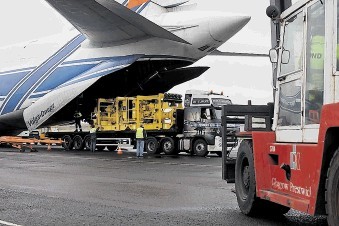 One of the biggest vessels operating in the North Sea has been put on standby to try to help plug the gas spewing out of Total's Elgin platform.
The Skandi Aker is making her way to Peterhead harbour in preparation for moving specialist equipment to the gas platform 150 miles east of Aberdeen.
She is one of two vessels being considered for use by the energy giant to carry the vital cargo used to carry out a "dynamic kill" of the G4 well.
The equipment was flown into Scotland from the US at the weekend and requires a large vessel to transport it out to the leaking platform.
The 500ft, 16,000-tonne Skandi Aker is operated by offshore engineering and construction firm AkerSolutions and is said to be the largest mono-hull well intervention vessel yet built.
The vessel was designed and built to work in the toughest offshore conditions in the world and it is now hoped she can be used to help stem the potentially highly-explosive hydrocarbon leak.
She can carry a crew of up to 140, has cargo space equivalent to half a football pitch and is capable of reaching speeds of up to 18 knots. Last night, Total confirmed the cargo was ready to be loaded but said the firm had not decided which vessel would be used.
A spokeswoman for the firm said: "The Skandi Aker is one of two boats currently being considered to transport the equipment.
"She is coming into Peterhead because it is the only port deep enough for her to berth and she will be on standby in preparation for being sent to the Elgin platform when the final decisions have been made by the company directors."
The multi-purpose Skandi Aker is the most advanced in the field. She can carry out subsea construction and installation activities at water depths up to 3,000m. Other well-intervention vessels are limited to work at water depths of 800m.
The French energy company is currently preparing two technical solutions to stem the seven tonnes of gas escaping from the installation every hour.
The first approach will involve heavy mud being pumped down into the well from the top at high pressure using a semi-submersible rig. Once the mud has blocked the gas and restored the normal pressure, cement will be poured into the well to seal it. Simultaneously, drilling will begin on two relief wells tointercept the leak and pump in mud from the bottom.
This back-up method, which will be deployed in case the first approach fails to work, will take up to six months to complete.