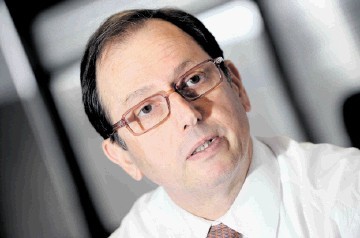 His quiet, almost scholastic air hides the fact that Philippe Guys is a man under the most incredible pressure as teams of expert engineers and various "ologists" battle to quell the gas leak that just a couple of weeks or so ago threatened to blow the Elgin production platform apart.
I've just spent the best part of an hour with Total E&P UK's managing director, being briefed about the crisis that is now certain to keep the important Elgin-Franklin gas-condensate field complex offline for months to come, shutting in the equivalent of 120,000 barrels of valuable hydrocarbons production per day.
The biggest daily revenues loss to Total and its partners in Elgin-Franklin is not so much the gas, important though that is, but the condensate, which is a super-light and highly-prized, volatile oil.
But the biggest loser in terms of overall daily revenues is the Treasury, as its tax take is over 60%.
Mr Guys and his people are clearly taking a very careful, step-by-step approach to solving this crisis, and have engaged famous American company Wild Well Control (WWC) to kill the G4 well by stopping the uncontrolled flow of millions of cubic feet of flammable gas to the surface and to prepare it for permanent abandonment.
Wild Well Control was founded in 1975 and was responsible for capping, in just eight months, more than 130 oil wells in Kuwait that had been torched by Saddam Hussein.
Its achievements have been many since and the hope at Total is that WWC will have the Elgin well under control within just a few weeks.
Mr Guys stressed the check, check, check manner in which the situation is being handled. He is clearly relieved that no one was killed or injured when control of the G4 well was lost last month – it ceased production and was fitted with a steel plug more than a year ago, but started becoming troublesome in late February.
We must believe that the last thing Mr Guys wants is to risk beyond sense the lives of the experts who will attempt a permanent kill of the G4 well.
That is why almost the entire operation will be carried out remotely from either the intervention ship Skandi Aker or possibly a new-generation, semi-submersible drilling rig.
As a belt and braces, Total will also start drilling not one but two relief wells of over 13,000ft.
These will intercept G4 at the point where it is believed gas from a chalky rock called the Hod formation is getting into the well. Mr Guys hopes that the WWC team will be so successful there will be no need to complete the relief wells, but he knows that he cannot gamble on trying one approach and then the other – they have to be attempted in parallel.
He also knows that whatever it is that led to the failure of G4 in the first place, every effort must be made to discover the cause and to apply any lessons learned.