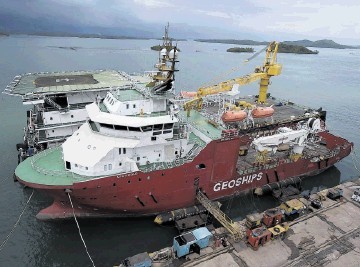 North-east firm SeaHold Geoships said yesterday it had added a second vessel to its fleet to meet an expected rise in demand in the North Sea.
Westhill-based Geoships said it would manage and crew the Loch Roag for five years, at a cost of around £22million, with the option to extend the contract with Otto Marine for a further two years.
Geoships said it needed a second ship to complement the Stril Explorer because it had bid for several jobs in the North Sea. The company also plans to add a third vessel to its fleet early next year.
The Loch Roag, which should arrive in the North Sea later this month, is expected to work mainly on inspection and repair and maintenance activities.
Geoships said that, as part of the charter agreement with Otto, it had the option to buy the vessel at various stages in the contract.
Chairman Kenny Macleod said: "Taking charter of Loch Roag has reinforced the firm's continued commitment to provide a growing fleet of quality new vessels to the oil and gas and renewables sectors.
"The vessel also lends itself well to geotechnical investigation activities, in line with some of our current activities with the Stril Explorer."
o Standby vessel operator Sartor Offshore Rescue said yesterday it had rebranded as Atlantic Offshore Rescue.
The Aberdeen-based company, in operation since 1995, manages a fleet of 13 emergency-response and rescue vessels and four platform supply vessels out of the Granite City.
It is part of the Atlantic Offshore Group – previously Sartor Offshore Group – based in Norway.
John Bryce, managing director of Atlantic Offshore Rescue, said: "As a name, Atlantic Offshore far better reflects the company's core business which primarily supports international offshore oil and gas operations."