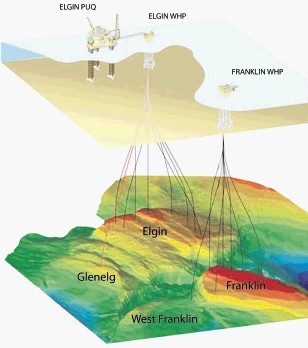 Fears have been expressed that the highly-explosive gas pouring out of Total's Elgin platform could also start leaking from one of seven other wells.
All 238 workers on the French energy giant's platform had to be evacuated almost three weeks ago after methane started leaking from the G4 well.
Jake Molloy, regional organiser for the RMT union, said there was a big concern that the other wells on the platform may suffer the same fate as the G4. He said: "Total should be very concerned about their other wells."
Total UK managing director Phillipe Guys told the Press and Journal even after they regain control of the leaking well they could not determine when production would start again.
He said all the other wells would have to be reassessed and individually checked for faults.
He said: "We need to make sure we get these things right and understand what happened. We need to verify, as you may realise, from the first wells that we drilled and from the last well that we drilled on this platform, there has been an evolution of the architecture of the wells and they have changed, progressed and improved.
"We are going to look at the statuses on the other wells and see what we need to do to make sure there's a safe environment to start up production.
"There is no way we can go and rush to start up production until we are sure we can do it safely."
The Elgin formation has 11 wells, three of which were appraisal wells and have been abandoned and never produced gas.
Mr Molloy said: "What they do not know at the moment is what has caused the leak. It could be any number of things and if, for example, it is due to movement of the formation, how many other wells has it affected? It could also be due to a fault in the materials and again this means if it's happened to one it could happen to them all.
"They need to determine the cause of the leak and make sure that it doesn't happen again. They have a major problem on their hands if gas starts leaking from another well and they still haven't managed to gain control of the G4."
Preparation for a "dynamic well kill" has been continuing and a specialist team of 11 boarded the platform 150 miles east of Aberdeen last night.
Mr Guys also met Oil and Gas UK in Aberdeen to share knowledge with the industry on the ongoing situation and the company's preparations to stop the leak.