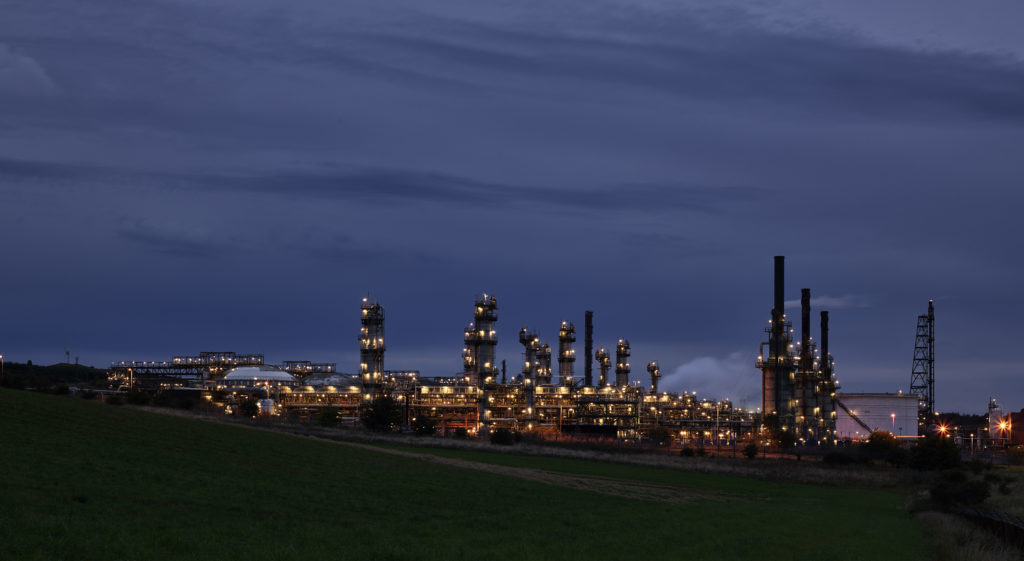 The Shell UK plant at Mossmorran has returned to normal operations following Tuesday's severe weather but flaring is understood to be continuing at neighbouring ExxonMobil.
Bosses at Exxon's Fife Ethylene Plant said they were committed to ending the disruption at the Cowdenbeath site as soon as possible and were making good progress.
Elevated flaring has been ongoing since Tuesday night when severe thunder and lightning caused a power cut and flooding, with light pollution visible for more than 20 miles.
A deep rumbling noise as a result of the flare has been reported 10 miles away.
Environment watchdog Sepa, which deployed officers to monitor the impact, said the flooding due to hours of torrential rain meant the use of ground flares was limited and the elevated stack had to be used.
A spokesperson said: "While flaring from ExxonMobil Chemical Limited is ongoing, both companies at the Mossmorran complex have taken steps to reduce the rate – and use of available ground flare capacity is reducing the amount of gas going to the elevated flare.
"Sepa staff will continue to attend in surrounding communities to assess impacts.
"Noise and air quality monitoring remains in place.
"Shell has advised it is now back to normal operations. ExxonMobil Chemical Limited has advised that there may be some fluctuations in flare size as work progresses.
"Sepa is clear on the need to minimise elevated flaring and our ongoing contact with both companies will continue until the full restoration of normal operations."
Both plants were still flaring on Thursday morning but Shell released a statement at lunchtime saying: "We have now safely returned the plant to normal operations."
The company thanked residents for their patience and apologised for any inconvenience.
Meanwhile, Fife Ethylene Plant manager Jacob McAlister said: "We are making good progress towards safely returning to normal production following the extreme weather early yesterday morning.
"Our team has taken a number of actions to significantly reduce the size of the flare, and we continue to look for ways to further optimise.
"As we move through these final stages, you may see some fluctuations in flare size but, as always, we will work hard to keep this to a minimum.
"As you will appreciate, we are putting safety first, but we are committed to completing the required steps as quickly as possible.
"We thank communities for their continued patience and apologise for any disruption."
Shell's NGL Plant manager Craig Burnett has warned of possible further flaring next week as the company starts its annual "turnaround".
"In order for this work to be carried out safely we need to empty Module 1 of hydrocarbons, which will require the use of the flare," he said.
"As usual, we will prioritise the use of the ground flares to minimise the impact on the community but you may see occasional short periods of low intensity flaring in the elevated stack between Tuesday 18 and Saturday 22 August.
"We do not expect each period to be for more than a few hours."
Elevated flaring operates as a safety valve when one or both of the plants are not processing properly.
Fife Ethylene Plant has been the subject of numerous complaints over several years due to safety fears and the impact of light and noise pollution.
It reopened in February after a six month closure when two of its three boilers failed and recently announced a £140m investment programme to reduce the impact of flaring had been delayed due to coronavirus.
Recommended for you

Kaefer contractors launch strikes at Shell Mossmorran and St Fergus gas plants