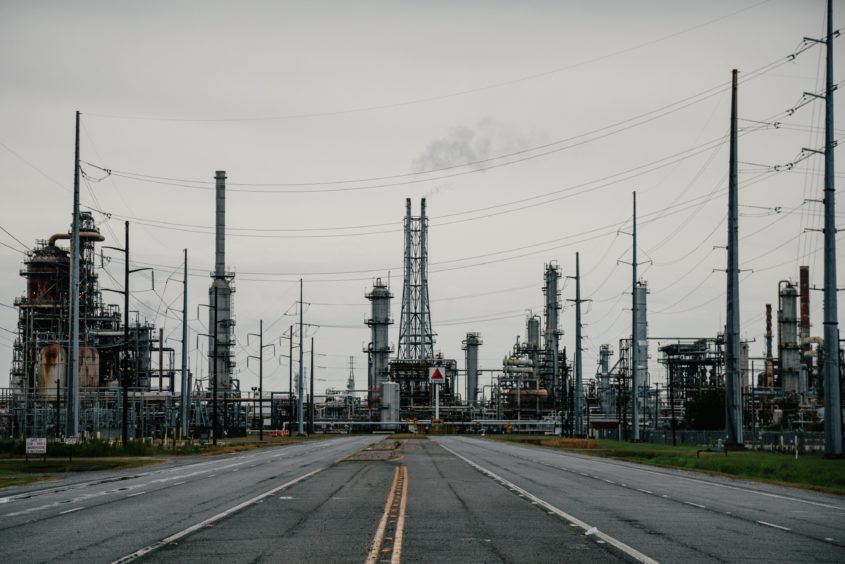 Oil edged lower — but was still headed for a fourth weekly gain — after Hurricane Laura swept through Louisiana and Texas without appearing to inflict major damage on the region's energy infrastructure.
Futures in New York dipped below $43 a barrel after closing down 0.8% on Thursday. Laura came ashore as one of the most powerful hurricanes to ever hit Louisiana but has since weakened to a tropical storm. While it knocked out power to hundreds of thousands of people and impacted plants that produce chemicals and liquefied natural gas, southeast Texas ports and crude facilities — including the largest U.S. refinery — likely avoided the worst of it.
More than 80% of oil output in the U.S. Gulf of Mexico and almost 3 million barrels a day of refining capacity had been shut ahead of the storm, causing a spike in gasoline and oil prices earlier in the week. Crude was also buoyed this week by data showing a fifth straight weekly decline in American stockpiles.
"With little oil infrastructure damage reported so far, and with shut-in production likely to return in the coming days, it looks as though oil will remain trading in this fairly narrow range that we've become accustomed to," said Warren Patterson, head of commodities strategy at ING Bank NV. "Demand from refiners should recover fairly quickly."
With the passing of Laura, investor attention now turns back to the coronavirus and the pace of global energy demand recovery. About half of India's trucking fleet is still idled, leading to a bleak outlook for diesel consumption there, while gasoline and diesel sales in the U.K. are still about 11% below pre-lockdown levels. In China, there's only expected to be a small boost in energy demand from infrastructure projects and post-flood recovery efforts.
Prices
West Texas Intermediate for October delivery fell 0.2% to $42.94 a barrel on the New York Mercantile Exchange at 10:35 a.m. in SingaporeThe contract has risen 1.4% so far this week
Brent for the same month declined 0.1% to $45.06 a barrel on the ICE Futures Europe exchange after falling 1.2% on Thursday. The more active November contract dropped 0.1% to $45.54
Crude futures on the Shanghai International Energy Exchange fell 0.7% to 292.9 yuan a barrel, paring its advance this week to 2.2%
Brent's three-month timespread was $1.28 a barrel in contango — where prompt contracts are cheaper than later-dated ones — from $1.41 in contango at the end of last week. The change in the market structure of the global crude benchmark suggests concerns about over-supply have eased slightly.
Exxon Mobil Corp.'s Beaumont refinery in Texas will begin restarting after Laura on Friday if an assessment shows no damage, while its Baytown refinery on the Houston Ship Channel has begun the restart process. Magellan Midstream Partners LP's East Houston terminal restored full operations at its refined products truck loading rack and the U.S. Coast Guard reopened the Port of Houston on Thursday.
The concern over Laura has now shifted from production to demand destruction, with flooding likely to disrupt normal consumption patterns, Helima Croft, global head of commodity strategy at RBC Capital Markets, said in a note. The fortification of offshore drilling platforms and the shale boom means hurricanes don't have as much impact on oil prices as they used to, she said.
Recommended for you

US oil majors stay ahead of Europe as deals beat strategy pivot