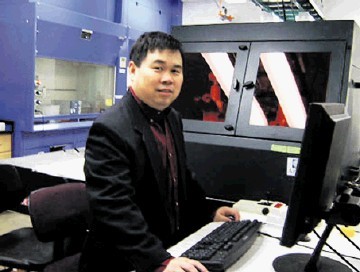 With existing production technologies leaving 30-40% of oil in the ground, it's no wonder that enhanced oil recovery (EOR) is a topic of so much interest around the globe.
Although there is considerable interest in chemical EOR, its current contribution to worldwide production is limited, and consequently it was one of the topics included in the 2010 call for proposals on EOR Technology issued by ITF, technology facilitator for the global oil and gas industry.
One of the projects now under way as a result of this call is concerned with the development of nanoplate surfactants for EOR.
The two-year project is being undertaken by a team of researchers from the Department of Chemical Engineering at Texas A&M University, led by Prof Zhendong Cheng, with funding from Chevron, DONG Energy and Wintershall.
The work is focused on the potential of Janus nanoplates as nano-surfactants. The use of surfactants in chemical EOR to release trapped oil by lowering interfacial tension has been a topic for research and development work in the past, but Prof Cheng believes that nanoplate surfactants could offer advanced properties in comparison to those that have previously been studied.
Janus particles have two faces with different properties, and there has been recent interest in their potential for all sorts of applications including more effective drug delivery, and solar cell development.
If a Janus particle has one face which is hydrophilic and one that is hydrophobic, then it can be an analogous to a surfactant molecule. The researchers at Texas A&M University are looking at the synthesis of Janus nanoplates, in other words plates comprised of a single layer of inorganic atoms that have one hydrophobic and one hydrophilic side. These will be tested to demonstrate their applicability as nano-surfactants.
Prof Cheng explains: "The value of nanoplate surfactant, similar to conventional surfactant, is to lower the interfacial tension of trapped oil to mobilise it. Once oil is mobilised, any emulsions which have formed will tend to coalesce into a continuous oil phase, resulting in banked oil. The banked oil flows on to the producers where it will be produced.
"The nanoplates that we are investigating have a geometric shape that is anisotropic, which brings special advantages for surface activity.
"The large lateral surface area offers strong adsorption energy to the oil-water interface, while the ultra thin nature of the nanoplates offers extraordinary stability to the liquid film between two emulsions, which prevents coalescence, since the maximum sustainable capillary pressure is inversely proportional to the particle thickness.
"In this project we are aiming to develop a synthetic route to functionalise both sides of the single atomic layer with different hydrophilic and hydrophobic properties."
The researchers also say that the nanoplates have potential to be tailored to the variance of the individual reservoir, are environmentally friendly, suitable for high temperature and high salinity use, and cost effective.
Senior technology analyst at ITF, Anthony Onukwu, said: "Oil and gas recovery has improved in recent years, but there is still considerable scope for further advances, and the prize can be significant. For example, it is estimated for each additional one percent of recovery efficiency, about four billion barrels of oil would ultimately be produced.
"This project is taking a fascinating approach to the development of new surfactants for EOR, and I am looking forward to seeing how the work progresses."