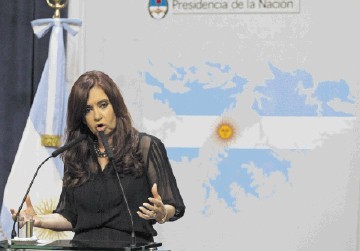 Scottish companies should have no fears about investing in oil exploration and production in the Falklands, a business leader from the islands said yesterday.
Roger Spink, president of Falkland Islands Chamber of Commerce, was speaking after a 30-strong trade mission arrived in the north-east to highlight new business opportunities in the South Atlantic.
Mr Spink said Argentina's long campaign to gain sovereignty over the Falklands was based on "completely unfounded" claims.
And recent attempts by the South American country to draw international attention to its case for the islands it calls Las Malvinas coming under Argentine rule had no chance of success, he added.
"We believe there is a great opportunity for businesses in Aberdeen to support the oil industry there," he said, adding: "That is why we have come to meet north-east companies and some of the organisations promoting them."
Mr Spink said most of the "noise" created by Argentina lately was for internal consumption and aimed at diverting attention from current political issues in the country.
It was no small coincidence that it also coincided with growing interest in South Atlantic oil exploration and the 30th anniversary of the Falklands conflict, he added.
The visiting trade mission has meetings with representatives from Aberdeen City Council, Aberdeenshire Council, Aberdeen City & Shire Economic Future, Oil & Gas UK, Aberdeen & Grampian Chamber of Commerce, MacLean Electrical, AMEC and AGR.
It is in the north-east until Thursday before going to Shetland, where there are meetings with business owners and visits to Lerwick harbour and Sullom Voe terminal.
The delegation, which includes legislative assembly member Dick Sawle, is also meeting energy lawyers from Pinsent Masons – the only UK law firm with a permanent office and staff in Stanley, the Falklands' capital.
Gavin Farquhar, a partner in Pinsent Masons' energy team, has been doing business in the Falklands since 1988 and believes north-east firms have a lot to offer the region's fast-developing oil and gas industry.
Mr Farquhar said: "The Falkland Islands are arguably where Aberdeen was positioned about 40 years ago, when the city was on the brink of a massive step change and moving away from traditional industries into a whole new world of hydrocarbon exploration and exportation.
"There is bags of experience available in both Aberdeen and Shetland, and the Falklands delegation will be able to hear how the UK oil and gas industry developed at pace."
He added: "There is also great potential for Aberdeen businesses to supply technologies and specialist skills if the Falklands emerge as a major hydrocarbon basin."