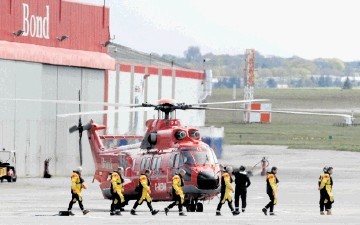 Bond Offshore has resumed helicopter flights which had been suspended after one of its Super Pumas ditched in the North Sea.
The first flight on one of the operator's Eurocopter EC225 aircraft took off at 8am yesterday from Aberdeen Airport, carrying BP workers offshore.
Throughout the day, Bond's fleet took off at regular intervals, signalling that operations were back to normal.
Bond said its decision to fly the Super Pumas again followed a "rigorous" inspection of the EC225 model and the release of important data from manufacturer Eurocopter.
The company halted the flights while investigations took place into what caused one of its aircraft to ditch last week.
Two crew and 12 passengers had to be rescued about 25 miles off the coast of Aberdeen during the third serious incident involving a Bond Super Puma in the North Sea in the last three years.
Results from an initial Air Accidents Investigation Branch (AAIB) examination of the helicopter at the weekend showed that its gearbox shaft had cracked.
Last night, Jake Molloy, regional organiser for the RMT union, said Bond was doing all it could to comply with safety recommendations – but that there was still uncertainty among offshore workers about the airworthiness of the aircraft.
"The fact is Bond, just like Bristow and CHC, are complying with the requirements put on them by the European Aviation Safety Agency," he said.
"However this doesn't detract from the ongoing concerns about Bond's performance over the last few months.
"There are still concerns about the safety of the aircraft from the people using them.
"Bond have got a job on their hands addressing these concerns and installing confidence in the guys flying."