North Sea-focused oil and gas firm EnQuest today announced yet more acquisitions but said production fell in the first quarter pf 2012.
The Aberdeen-based company said production dropped to 20,976 barrels of oil equivalent (boe) per day, from 25,403 in the same period last year.
It expects full-year daily production to average 20,000-24,000 boe per day – rising to 25,000-30,000 in 2013 – after a series of investments and workovers.
EnQuest also announced it was buying a 20% stake in the northern North Sea Kildrummy discovery from ENI for £1.8million, to be paid only when a field development plan is approved, taking its stake to 60%.
It has also agreed to take 50% in the northern North Sea Cairngorm prospect, lifting its interest to 100%, from Sterling Resources in return for its share in two Dutch North Sea blocks.
The deals follow three other acquisitions by EnQuest this year and also UK government approval for its Alma development.
Chief executive Amjad Bseisu said: "We have had a busy 2012 to date, with three transactions giving us a 60% working interest in the exciting Kraken development as well as the purchase of an additional 18.5% of West Don.
"Our production for 2012 is going according to plan and the Alma/Galia development is on schedule.
Mr Bseisu hinted that EnQuest was poised for more acquisitions, saying it was "in a good position to take advantage of further business development opportunities as they arise".
EnQuest, which employs more than 280 people in Aberdeen and about 1,000 indirectly and directly offshore, hopes to get approval for the central North Sea Galia development in the "near future".
First production from Galia and the nearby Alma field is expected in the fourth quarter of 2013.
Cairngorm had been awarded to Sterling in the 26th licensing round.
Under the swap with EnQuest for its 50%, Sterling will get a 10% stake in the F-Quad and L-Quad licences in the Dutch North Sea – subject to regulatory and partner approval.
This will see Sterling become operator and hold a 35% interest in F-Quad and L01b, which is said to contain four oil discoveries.
Recommended for you
X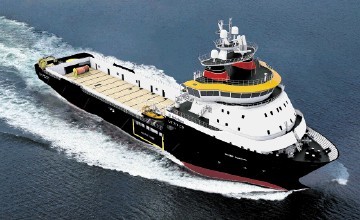 BP orders North Sea vessels