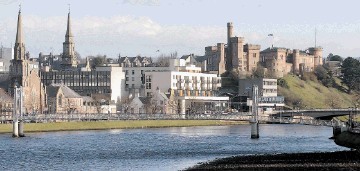 Inverness is fast becoming a leading centre for support and administration for the energy industry, the boss of a group at the heart of economic diversification in the north said yesterday.
Ian Couper added that activity in and around the Moray Firth and Inverness plus work starting on the long-awaited Beauly to Denny powerline had led to an explosion in business opportunities for members of Energy North, of which he is chief executive.
Mr Couper said: "The growth in engineering and other related activities has created demand for support businesses, including specialist accountants, solicitors, infrastructure suppliers and recruitment firms."
The representative body for the energy industry in the Highlands and islands, has also seen growth in its own membership.
Portakabin, Technoscot, Inverness Airport and Skillstore are among Energy North's latest recruits, joining established names such as Orion Group, Jacobs, Global Energy Group, Harper Macleod, Inverness College, the University of the Highlands and Islands and Inverness Chamber of Commerce.
About 30 of its 160 members are based in the Inverness area.
Members are taking advantage of the many new opportunities to be found in oil, gas and green energy.
Portakabin's manager in Inverness, Andrew O'Connor, said: "Membership of Energy North will ensure that we are firmly part of the energy community and kept up to speed on developments and opportunities within the sector."
The head of marketing at engineering recruitment specialist Orion, Scott Burns-Smith, said the growing reputation of the Highlands as a key area for the international energy sector was helping to support expansion at the company he works for.
Inverness-based Orion now has 27 offices globally and employs 120 people in the Highland capital, which is expected to increase to 140 by the year-end.
Energy North has members throughout the north and north-east. Its forerunner, North Scotland Industries Group, was launched by former UK energy minister Brian Wilson in 2002 to explore new business opportunities for oil service firms in the north.
Recommended for you

Glitzy Energy Ball to make its much anticipated return later this year