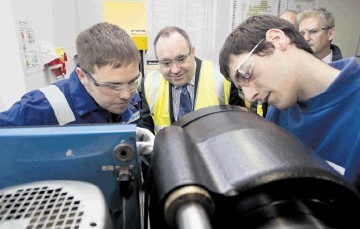 A blueprint for new Scottish oil and gas sector jobs and growth was welcomed by industry leaders in Aberdeen yesterday.
In what was described as the first industry strategy for the sector – 40 years after oil was discovered in the North Sea – plans to help find 10,000 new jobs estimated to be needed, double supply chain sales and increase overseas trade were outlined by Scotland's first minister.
The move, led by the Scottish Government, in partnership with industry, comes after the UK Treasury's surprise £10billion tax grab on the industry last year – followed by tax concessions this year – and predictions of bumper spending of more than £11billion in the North Sea during 2012.
Speaking in Aberdeen yesterday, Alex Salmond said there could be £1.5trillion of oil and gas reserves still to be extracted from the North Sea, but that it should no longer be viewed as a cash cow and instead as "part of the fabric of the economy". He said: "This is not really a strategy for the next 10 years, it is a strategy for the next generation. Someone can come into this industry today and could be deploying their skills in 30, 40 or 50 years' time."
The strategy, launched at the head office of energy services firm Hydrasun in Cove, was welcomed last night by industry leaders.
David Ripley, supply chain director at industry body Oil & Gas UK, said: "The oil and gas supply chain is the most important industrial sector in Scotland and is increasingly successful in exporting its products and services around the world.
"As international activity grows and domestic production declines, we must ensure that the technology and skills remain anchored in Scotland and, indeed, across the UK."
Neil Gordon, chief executive of industry body Subsea UK, said: "We need Government support to attract young people into the sector, to develop the necessary skills and the next wave of technologies that will enable us to exploit the global opportunities. The strategy gives us confidence that this will be forthcoming."
Alex Kemp, Aberdeen University's professor of petroleum economics, said: "Over the years most of the strategy has been for oil and gas companies and been about central policy – such as oil production targets and taxation.
"To have the supply chain highlighted will be very useful and the idea there will be long-term career opportunities for young people of all kinds of educational background comes through very strongly."
Paul Lewis, managing director of operations at Scottish Enterprise, which co-launched the strategy, said: "I think this is the start of a new phase for Scotland.
"This will happen if industry continues to give the support it has shown to this to date. In return, I can give commitment from Scottish Enterprise, Highlands and Islands Enterprise and Scottish Development International that firms will have support to reach their growth plans and aspirations."