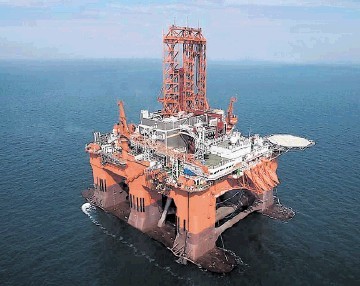 A wholly-owned subsidiary of Fred Olsen Energy . . . presumed to be Dolphin . . . has entered into a turnkey contract with Hyundai Heavy Industries for the building of a harsh environment ultra-deepwater semisubmersible drilling rig with scheduled delivery in March 2015.
The company has advised that the total project cost will come in around $700million, including spares, owner-furnished equipment, and yard project team.
Through another offshoot, the group has secured an option from Hyundai for the purchase of a similar second drilling rig exercisable by the end of October this year.
This would bring the Fred Olsen commitment to $1.4billion for the pair of polar capability machines.
The new units will be built to the Moss Maritime CS60E model and are designed for operations in water depths to 3,000m (10,000ft nominal) and drilling wells to 12,500m (41,010ft), which is significantly greater than most sixth generation semi-submersibles.
The CS60E design is an evolution of the successful CS50 family of which the Seadrill rig West Eminence is an example.
The CS60E's powerful drilling package will comprise a NOV derrick – capacity 2.5million pounds; NOV Dreco 5,850bhp drawworks; set of four high capacity mud pumps rated 2,200bhp each; and a NOV 60-5-in diameter, 1,000-ton rotary table.
Fred Olsen said the new drilling tonnage will be fully compliant with Norwegian Continental Shelf requirements, and is designed for year-round operations in the Norwegian Barents Sea.
Another Norwegian company, Seadrill has also placed an order for a Moss CS60 class rig; order value is estimated at $650million.
To be built by Hyundai, the new rig will be a sister to the harsh environment semi-submersible that Seadrill's subsidiary North Atlantic Drilling currently has under construction at Jurong Shipyard.
The unit will be fully winterised to meet the harsh and demanding weather conditions in the North Atlantic areas. It is scheduled for delivery in Q4 2014.
Seadrill has agreed to a fixed price option for one further unit from the yard. It has already received charter interest in the unit just ordered.
With current strong demand for high-specification deepwater units, the company feels it is likely that the option will be exercised, however, a final decision will not be taken before August this year.
Meanwhile, a further Norwegian company, this time Ocean Rig, has delivered its new-built, ultra-deepwater drillship Ocean Rig Olympia to Total for work offshore Angola, West Africa.
The vessel will be employed to carry out exploratory and developmental drilling.
Ocean Rig said that Total's $625million, three-year charter of the state-of-the-art drillship is in direct continuation of an existing charter and that its day-rate, likely including both bonuses and mobilisation costs, comes to approximately $595,000.
In addition to the three-year initial term of the charter, Total also has by its agreement with Ocean Rig, two one-year extension options to its contract.
Ocean Rig Olympia is one of four ultra-deepwater drillships built at Samsung Heavy Industries in South Korea based upon the Saipem 10,000 design.
The first sister, Ocean Rig Corcovado, was delivered in January 2011, and the second, Ocean Rig Olympia, in March 2011. The other sisters followed in July and September.