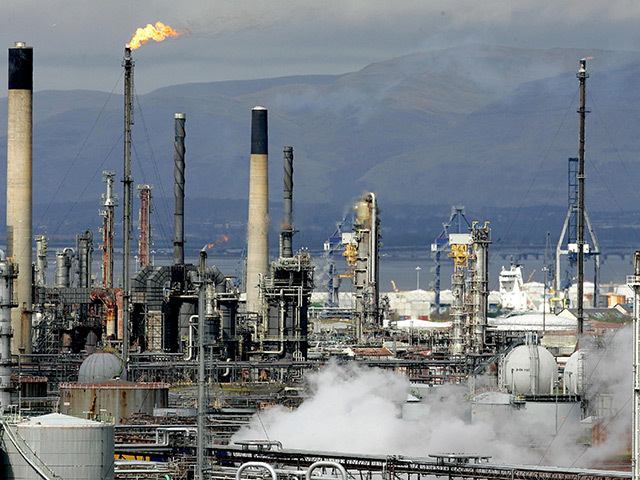 Up to 200 jobs are at risk at the Petroineos oil refinery in Grangemouth.
The Unite trade union said the company has entered into consultations which could reduce the workforce from 650 down to 450.
A lower demand for fuels is being cited for the jobs being cut, which involves mothballing its crude oil distillation and fludised catalytic cracker units at the Petroineos Grangemouth site.
Petroineos said these have been closed throughout the pandemic and the move would make it a "viable longer-term business", protecting 450 highly-skilled jobs.
The consultation is expected to begin on November 16.
Petroineos Refining CEO Franck Demay said: "As a national critical
infrastructure it is vital we retain a productive capacity of fuels in Scotland.
"We firmly believe that only by taking action now will we preserve one of
Scotland's last large manufacturing sites and a significant contributor to the
Scottish economy."
The Unite union described the plans as "premature" adding "it's our belief that these job losses can be averted".
The organisation said it is urging Petroineos to use the five-month furlough extension, providing extra time to consider alternatives to job cuts.
Unite industrial officer Sandy Smart said: "We firmly believe the proposal is premature and that Petroineos should instead be discussing with us how to effectively use the extension in the UK Government's furlough scheme to give us more time to explore every option.
"The workforce also needs assurances from the company over the medium and long-term security of the plant.
"Unite will be entering a formal consultation process with the company but we will be insisting that any job losses, if they are to occur, then this should be on a voluntary basis."
Petroineos is a refining and trading joint venture between chemicals giant Ineos and PetroChina International London, formed in 2011.
Recommended for you

Floating forecasts: Key questions on the skills challenge for floating wind