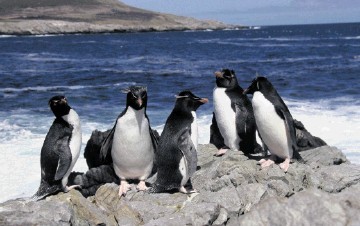 There has been a considerable mood change when it comes to evaluating the chances of realising commercially attractive oil reserves in the Falklands.
Not so long ago, the doubters preferred to suspend belief that the south Atlantic could be a major oil province, but some important announcements in recent weeks may convince the most hardened cynic that something big is developing down there.
Just on Monday it was revealed US exploration and production company Noble Energy had agreed a farm-in to Falkland Oil and Gas (FOG) licences, with plans to take over as operator in due course.
This follows an investment in FOG licences by Edison International, part French group EDF, and both deals underline the growing international interest in the south Atlantic as a potentially serious oil and gas producing region.
The other significant recent news is that Premier Oil is investing £638million for a 60% stake in Rockhopper Exploration's licence interests in the North Falklands basin.
Rockhopper has been the most successful to date of the new generation of Falklands explorers, with an independent report assessing its Sea Lion and adjacent discoveries to have best estimated oil in place of 1.3billion barrels, with 355million barrels of estimated recoverable reserves, representing a net value of between £2.6billion and £3billion.
Borders and Southern Petroleum is assessing data from the significant Darwin gas-condensate find and FOG has the Leiv Eiriksson rig drilling two wells, the first of which is in the giant Loligo field which spudded last Friday.
As one of the largest prospects to be drilled anywhere in the world recently, Loligo has estimated recoverable resources of 4.7billion barrels, potentially many more times the size of the Sea Lion find, and if proven would silence any remaining doubters.
The Falkland Islands government and private industry in the islands is strongly focused on gearing up for a future oil industry and this was evident when I met members of a Falklands Chamber of Commerce delegation during a recent visit to Aberdeen and Shetland.
The chamber delegates found it incredibly useful to hear at first-hand how Aberdeen and Shetland coped with a fledging oil and gas industry, wrestled with the challenges and harnessed the opportunities. There are many lessons which can be learned and a vast array of expertise is now available on the UK continental shelf (UKCS) which can be put to good use in the Falklands.
Visits to Aberdeen Harbour and Sullom Voe really opened the eyes of delegates to what is potentially heading their way and the islanders were able to get a handle on what they can do to maximise any oil windfall and how to avoid some of the pitfalls the UK has experienced.
We can't ignore the fact the Falklands is a long way from the Aberdeen expertise that serves the UKCS and it represents significant logistical challenges for UK companies wishing to do business there.
Nevertheless, the Scots in particular have never been frightened of plying their trade on far-flung shores.
As confidence grows and the Sea Lion discovery is hopefully followed by other successes, I am confident Aberdeen and North Sea service companies will seize the opportunities presented in terms of supplying personnel, technical know-how and the world-beating technologies for which the UKCS has become famous.
An added attraction is that the Falklands legal environment and health and safety regime follow UK models, with continuous development of the regulatory regime anticipated.
There is stable and transparent government with little likelihood of unexpected change in the licensing and tax regimes. In the months and years ahead, the Falklands government and the islands' entrepreneurs will be going out of their way to make sure investors and service providers are warmly welcomed.
*Gavin Farquhar is a partner in law firm Pinsent Masons' energy and natural resources group and head of its Falklands office.