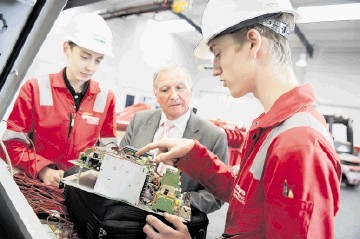 Aberdeen-based oil service company Sparrows has opened new £2million offices in the city to accommodate its growing workforce.
The firm, which provides offshore crane and lifting services, refurbished Foveran House at Bridge of Don after recruiting nearly 100 people so far in 2012.
Sparrows aims to add nearly 150 more people to its 1,744-strong workforce, of which in excess of 1,100 are based in the north-east. The new 39,100 sq ft premises mean Sparrows now has five sites in and around Aberdeen, including its Seton House HQ.
Foveran House was formally opened by MP Sir Malcolm Bruce yesterday.
Sparrows chief executive Doug Sedge said: "The buoyant global offshore market and our extremely robust order book have given us the confidence to invest significantly in existing and new premises.
"Foveran House offers more space to house our rapidly-expanding workforce. Our new recruits are bolstering our existing team to work on new and existing contracts and helping us gear-up capacity for further new business."
Sir Malcolm said: "Sparrows is a dynamic and enterprising local company which has achieved international recognition.
"It is an excellent example of the innovation that exists in this sector."
Sparrows, established in 1973, said earlier this year that turnover increased by £22.5million to £172million in 2011, while operating profits of £10.6million in the latest period were up from £5.9million the previous year.
Meanwhile, Aberdeen firm Infotechnics – a provider of integrated software services to the oil and gas, power and utility industries – has expanded its operations by opening a new office at Warwick.
It said the move came on the back of continued success and market demand.
Infotechnics also said it had added a handful of staff to its technical and sales/marketing departments.
Recommended for you

Renewable Parts opens new Innovation Centre in Scotland