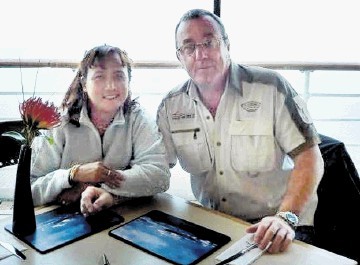 A MORAY oil worker has died in an accident on a rig off the coast of Australia.
Barry Denholm and a colleague were repairing a drill when a surge of gas caused it to hit them both.
They were working on the Stena Clyde platform off the south-western coast of Victoria state.
Fifty-nine-year-old Mr Denholm lived with his wife Somjit at James Street in Lossiemouth.
He is also survived by sisters Susan and Debbie and father James.
Mrs Denholm and her two sisters-in-law were too upset to speak yesterday.
The platform is owned by Aberdeen-based Stena Drilling.
In a statement issued yesterday, the company said Mr Denholm and his colleague, 32-year-old Peter Meddens, from Darwin in Australia, would be "sorely missed by all".
"Stena Drilling and Stena Drilling Australia would like once again to offer their heartfelt condolences to their families, friends and colleagues," it said. "The company and its contractor are in close contact with both families and will continue to offer help and support as best we can at this difficult time."
It is understood one of the men died instantly and the second died while being flown to hospital.
Lossiemouth councillor Carolle Ralph said the news was shocking. She added: "I know Barry was very well thought of in the community. He was a nice chap, by all accounts. I think everybody's thoughts go out to his family, his wife, his dad and his sisters.
"It just highlights the dangers that people face offshore, when you hear of another incident like this. When it is someone so close to home it is just shocking and tragic. Everyone is very saddened by what has happened."
After the incident on Monday, operations on the rig, 55 miles south-east of Warnambool, in the Otway Basin, were stopped and all workers were flown back to shore. Earlier this week, the Australian Council of Trade Unions said the accident was a "tragic reminder" of the risks in the offshore industry and called for an extension of the occupational health and safety laws to cover offshore workers and not just those onshore.