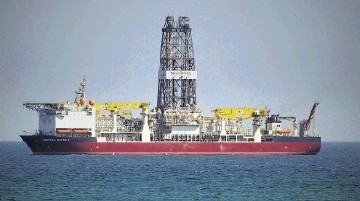 BG has made the first Cretaceous geology gas find offshore Tanzania with its successful Papa-1 exploration drilled on Rufiji Delta block 3 using the drillship Deepsea Metro I.
Ophir Energy, partner to operator BG on the licence disclosed that the Papa-1 discovery was the sixth consecutive gas find for the Ophir-BG joint venture in Tanzanian offshore blocks 1, 3, and 4.
Ophir said that an 89m gas-bearing column in the Upper Cretaceous was penetrated and that, based on the preliminary data available, it is estimated to have in-place reserves in the range 0.5-2.0trillion cu.ft.
Detailed core and petrophysical analysis under way will confirm the scale of the discovered resource.
Papa-1 is located about 100 km offshore Tanzania some 53 km southeast of the earlier Pweza-1 discovery. It was spudded on May 29 in 2,186m of water and drilled to a total depth of 5,544m (18,190ft) subsea in 57 days. The well, designed to evaluate sandstones of Campanian and Albian age within the Papa prospect in interbedded Campanian sandstones, further de-risks the deeper, Upper Cretaceous "Intraslope" play in Tanzania, which is good news for future exploration. Additional resources have now been discovered in the Cretaceous outwith both the Rovuma and Rufiji Deltas by the Mzia-1 and Papa-1 wells.
The BG-Ophir joint venture's first four discoveries have successfully tested targets of Miocene, Oligocene, and Paleocene age and are currently estimated to hold total recoverable resources of some 7TCF.
The fifth discovery, Mzia, and the sixth, Papa, are expected to add considerable additional recoverable resource to this total.
The Deepsea Metro I is due to transfer to Apache for a single well on block L8, offshore Kenya, before returning to continue Tanazania operations with Ophir-BG. Plans call for the JV to restart drilling in Tanzania's block 1 next month (OCTOBER). Next in the sequence will be two step-out exploration and appraisal wells around the 3.4TCF Jodari discovery for a potential hub for the planned block 1 liquefied natural gas (LNG) development.
BG is the operator of Tanzania's Blocks 1, 3, and 4 and the Papa-1 well with 60% interest in partnership with Ophir, holding the remaining 40%.