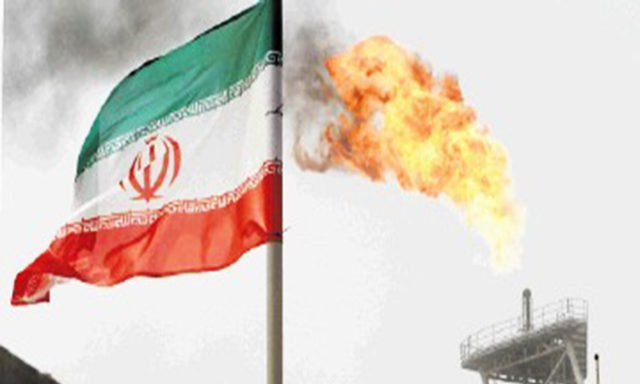 Iran has started ramping up its oil production and expects to reach pre-sanctions levels in one to two months, Deputy Oil Minister Amir Hossein Zamaninia said.
The oil market will be able to accommodate Iran's maximum oil output of around 3.9 million to 4 million barrels a day, Zamaninia told reporters on the sidelines of an oil conference in Tehran on Friday. Subject to punitive U.S. sanctions, the country is barely pumping around half that amount currently, according to Bloomberg data.
Iran has been subject to tough U.S. sanctions since 2018, when the administration of then-President Donald Trump unilaterally withdrew from an international deal that restricted the Middle Eastern country's nuclear activities.
President Joe Biden is expected to seek the restoration of that accord and officials in Tehran have expressed the hope he will ease restrictions on its petroleum sales. But for now, the sanctions are still in place and any buyer of Iranian crude would face the same legal and financial penalties that have deterred most potential customers over the past few years.
Zamaninia declined to specify the current level of Iran's oil exports, but said the numbers were "much better than many assume," while Oil Minister Bijan Namdar Zanganeh said shipments have increased "dramatically." Oil analysts viewed the announcements with skepticism.
"I find this premature," said Eugen Weinberg, head of commodities research at Commerzbank AG in Frankfurt. "Possible buyers of Iranian oil are likely to wait for an agreement, and an end of the sanctions."
Sharply Down
Output stood at 1.99 million barrels a day in December, down by almost 50% compared with the months before Trump's move, according to Bloomberg estimates. Many Iranian oil tankers switched off their transponders soon after the measures were announced, making it harder to quantify the impact on exports.
Biden's Treasury Secretary nominee Janet Yellen said Thursday that the U.S. would only provide sanctions relief if Iran resumed its commitments under the nuclear deal.
Tehran, which has been ramping up its nuclear activity in defiance of U.S. pressure, has said it wouldn't restore its compliance until sanctions are lifted. Announcing strong export levels and ambitious targets could be part of the negotiating process.
Kpler Ltd., a market intelligence firm, said that Iran's recovery will depend on three elements: the readiness of Biden to reactivate the nuclear deal, the country's technical ability to revive production, and the willingness of customers to resume purchases.
"Iran has demonstrated in the past a very strong ability to bring oil back to the market, although we think that one-to-two months is very optimistic," said Alex Booth, Kpler's head of research.
China already showed some readiness to continue purchases from Iran even at the height of sanctions, and Indian customers could return too, Booth said. Production cuts by Iran's counterparts in OPEC+, such as Saudi Arabia, may have created a gap for the Islamic Republic to fill, he added.
Oil Minister Bijan Namdar Zanganeh said in December that the government sought to double oil production and increase exports to 2.3 million barrels a day.
Zamaninia, who is also Iran's OPEC governor, said Tehran had been discussing energy projects, including upstream projects and oil purchases, over the past several weeks with European and Asian companies.
"Iran's bold claims on recovering oil exports in weeks don't really stand up to scrutiny," said Bill Farren-Price, a director at research firm Enverus. "But it does show that Iran is keen to test the U.S. commitment to the sanctions. Tehran just put nuclear diplomacy back on the front burner."
Recommended for you

OPEC+ Answers Biden's Diplomacy With 'Minuscule' Output Hike