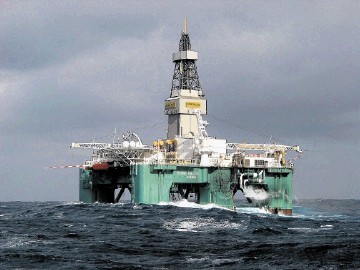 ExxonMobil plans to drill the huge Dunquin gas/condensate prospect out to the west of Ireland early next year using the Eirik Raude semi-submersible rig owned by Norwegian group Ocean Rig UDW.
A letter of intent to use the rig next summer is seen as hugely welcome news by London-listed Irish explorer Providence Resources, which has played a huge role in the early assessments of Dunquin prior to Exxon's farm-in.
Subject to satisfactory contract and corporate and co-venturer approvals, the rig is scheduled to spud the Dunquin-1 well during Q1. The programme is expected to last up to six months.
The deepwater Dunquin project consists of two main prospects, Dunquin South and Dunquin North, both anticipated to be gas/condensate bearing. Located in the Porcupine Basin in 1,524m (5,000ft) of water, Dunquin holds an estimated 14trillion cu.ft of gas and 500million barrels of condensate.
Covering 700sq.km (172,974 acres), Dunquin could turn out to be one of the biggest fields in the world if its reserves are proven.
Adjoining multiple blocks (44/18, 44/23, 44/24, 44/29 and 44/30), Dunquin is operated by ExxonMobil. It was in February 2006 that Providence with partner Sosina signed a farm-out agreement with the company to conduct substantial exploration work on the prospect and receive 80% ownership in return. Providence therefore retained a 16% interest and Sosina 4%.
Shortly after, ExxonMobil farmed-out half of its percentage to Eni and Repsol. Now, ExxonMobil holds 27.5%; Eni holds 27.5%; Repsol holds 25% while Providence and Sosina shares remain unchanged.
Meanwhile, two other companies, Europa and Petrel, active on the Irish Atlantic Frontier have identified what they believe to be previously unknown and significant prospects.
Europa Oil & Gas has identified two large prospects in its licensing options LO11/07 and LO11/08 in the South Porcupine Basin.
The company said that the prospects, Mullen in LO11/07, and Kiernan in LO11/08, were identified in the Cretaceous clastic play that was proven by the original Burren oil discovery.
Europa said seismic mapping shows potential for large stratigraphic closures of up to 120sq.km in size in the case of Mullen and 244sq.km in the case of Kiernan, and that both prospects are supported by amplitude anomalies identified on 2D seismic data, where detailed mapping points to the development of a possible mechanism for trapping hydrocarbons.
Studies indicate potential for an additional lower Cretaceous source rock as well as the proven Jurassic source rock.
Reprocessing of key seismic lines over both prospects is in progress and will be followed by a rock physics and 2D inversion study to calibrate the seismic response.
Discussions with potential joint venture partners for both licenses are on-going.
Turning to Petrel Resources, the company says it has achieved encouraging results from its technical study of its option blocks in the Porcupine Basin.
The company said that blocks 35/23, 35/24 and the western half of 35/25, and blocks 45/6, 45/11 and 45/16 cover about 1,400sq.km in the northern and eastern sections of the basin.
It said that the first two phases of work are now complete and that several new targets have been identified.
Petrel has identified encouraging targets at the Lower Cretaceous and Tertiary levels in both sets of blocks, with those in blocks in Quadrant 35 looking "particularly promising".
The objective is to develop targets that will attract large partners to facilitate an early seismic campaign followed by exploration wells.
Europa was awarded its 100% equity interest in licensing options LO11/07 and LO11/08 in November 2011 as part of the 2011 Irish Atlantic Margin Licensing Round. Both areas are situated off the west coast of Ireland in water depths of between 700 and 2,000 meters in Quads 43 and 54.