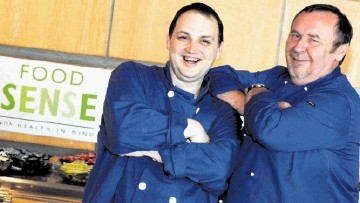 Outsourcing firm Sodexo said yesterday one of its Scottish divisions had gone 7million man-hours without a serious incident.
Sodexo added its Scottish remote sites arm had not had a lost-time incident (LTI) – where an employee suffers an injury serious enough that causes the person injured to be unable to work for a day or more – in two years.
It comes in the same year Sodexo won its 13th consecutive British Safety Council International award.
John Fraser, health, safety, environment and quality manager for Sodexo Scotland Remote Sites, said: "This is a fantastic achievement, one which we are all very proud of.
"This has only been possible because each and every one of our teams play a significant part in working safely at their worksites, looking for where potentially the next accident could occur and personally taking accountability to eliminate it."
Sodexo has been providing on-site services for North Sea oil and gas firms for more than 40 years.
The North Sea headquarters in Aberdeen is responsible for about 1,000 staff and serves 130 client locations. It is supported by offices in Norway, Denmark and the Netherlands. Worldwide, Sodexo employs 413,000 people in 80 countries.