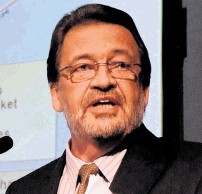 Oil giant Shell is due to award a contract worth tens of millions of pounds as part of its massive North Sea Brent field decommissioning programme.
Two yards in Shetland are among bidders for the work to remove substantial parts of three of Shell's four Brent platforms, together weighing hundreds of thousands of tonnes.
Scottish sites are facing competition from yards in northern England, Norway and Northern Ireland.
The work will be spread over 10 years and is expected to secure long-term jobs.
Speaking during the second and last day of the Decom North Sea/Oil and Gas UK Offshore Decommissioning Conference, at St Andrews, Shell UK project director Austin Hand said: "Northern Ireland, Shetland and (demolition firm) Able in the north of England all have a real opportunity of getting some of this work. We have bids in for the removal of Brent platforms Alpha, Bravo and Delta, and onshore disposal of those as well."
Addressing about 300 delegates, he added: "We would prefer to award it all to one facility but we are not opposed to splitting it up."
Shell hopes to award the contract by the year-end or first quarter of 2013.
Mr Hand said the first equipment to be removed would be the topsides of Brent Delta, one of three concrete structures on the field and the only platform to have stopped producing. This is expected in 2015, with the topsides of the other facilities and a steel jacket from Brent Alpha following.
A decision over what to do with the concrete legs of the other platforms has yet to be made.
Brent Charlie is due to be decommissioned at a slightly later date.
One of the biggest and most costly areas of decommissioning the platforms – the plugging and abandonment of some 150 wells – got under way in 2008.
About £65million has been spent over five years on 300 studies carried out for the decommissioning programme.
Brent was one of the UK's earliest and largest oil and gas development projects, with all the platforms coming on stream in 1975-76. It has produced about 4billion barrels of oil equivalent (boe) and at its peak produced 416,000boe per day.
Recommended for you

'It's absolutely huge': What next for decommissioning Ninian Central?