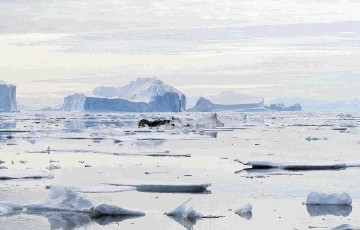 Interest in exploration for oil and gas off Greenland increased today with another new player entering the Arctic region.
Tullow Oil, based in London but focused on operations offshore Africa, has taken a 40% stake in the Tooq licence in the northern Baffin Bay area, west of mainland Greenland, held by Maersk Oil.
However, both firms said a decision to drill in the remote icy region, well inside the Arctic Circle, had not yet been made and was "still years away".
The move comes in the wake of much-publicised opposition to Shell's drilling off Alaska, which faced legal challenges but was halted this year by the icy environment.
A giant iceberg floating towards the drill site caused Shell to pull back from the region, which has short operational windows, as a precaution.
A value for today's deal between Maersk and Tullow was not disclosed.
Maersk Oil, part of the AP Moller Maersk group, will remain operator and retain 47.5% stake in the licence, with the remaining 12.5% held by Nunaoil, Greenland's state oil firm.
Carsten Sonderskov, managing director of Maersk Oil Kalaallit Nunaat (Greenland), said: "We have just successfully completed a 3D seismic survey in the area, after a comprehensive environmental impact assessment was carried out and approved by Greenland's Government.
"The decision whether or not to drill an exploration well will be made after the seismic evaluation has been completed. Therefore, any drilling is still years away and will only take place if we are certain we can do it safely."
Earlier this year Norwegian giant Statoil made a move into the region by farming into a licence operated by Edinburgh-based Cairn Energy.
Cairn this year completed a £2billion two-year exploration campaign in the basin. It did not find oil or gas, but said it was still confident of the potential in the region.
It is in a consortium including Shell, which is collecting core samples from offshore Greenland.
Two seismic programmes shot last year are being interpreted this year in connection with the well data it has gathered, Cairn said previously.
Other major oil companies including Exxon, Chevron, ConocoPhillips and GDF have also established a presence offshore Greenland, but so far Cairn has carried out most of the drilling.