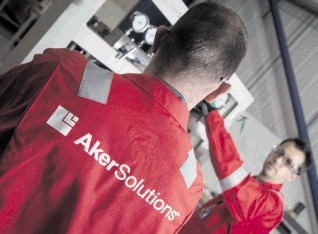 Aker Solutions has landed a multimillion-pound deal, which will lead to up to 150 people being recruited to work in Shetland and Aberdeen.
The company has won a three-year contract from Total E&P UK and its joint-venture partner Dong E&P (UK) at the new Shetland gas plant.
The agreement includes providing operations, maintenance and services support workers at the plant, which will process gas from the Laggan and Tormore fields west of Shetland. The contract is for 3 1/2 years with an optional two-year extension, although the value is not being disclosed.
The new posts are part of 500 jobs for Scotland announced by Aker Solutions in May.
The firm now employs about 2,800 people in Scotland – predominantly in Aberdeen – and aims to increase this to around 3,200 by 2015.
Mike Forbes, UK managing director of Aker Solutions MMO business, said: "This is a significant deal for us and I am delighted that Total E&P UK has chosen to build on our long-standing partnership with the award of this important contract.
"The Shetland gas plant will be an integral part of the future UK gas supply and we are pleased our expertise and track record for delivery have been recognised and we can continue to be a part of the UK oil and gas success story together with Total E&P UK."
More than 180 Aker Solutions employees are involved in delivering production and maintenance support services for Total at both the St Fergus gas plant – where up to 20% of the UK's gas requirement is processed – and offshore on the Elgin Franklin assets. The Shetland gas plant is part of the £2.5billion Laggan-Tormore development, which will help unlock an estimated 2billion to 4billion barrels of oil equivalent west of Shetland.
First gas from the Laggan and Tormore fields is due in mid-2014.