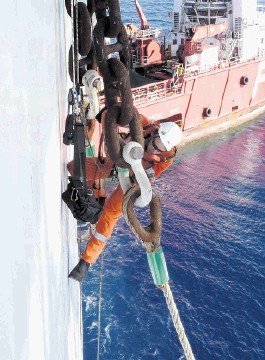 Scottish oil and gas contracting and service company Global Energy Group announced more expansion in the Asia-Pacific region yesterday.
It has bought Vertech Group, of Perth, Western Australia, which is involved in supplying specialist access, inspection and maintenance packages to the global energy industry.
The deal was for an undisclosed sum, but is understood to be worth several million pounds.
Vertech employs about 70 people and has annual turnover of about £13million and profits around £1million.
Global, based in both Inverness and Aberdeen, employs more than 4,000 people worldwide.
Before the Vertech acquisition, it had around 250 staff and contract workers in the Asia-Pacific region.
The group said the deal was another step in building a strategic portfolio of specialist services in that part of the world.
Global added: "We have been looking for a range of specialist service companies to link up with our existing resource and inspection businesses, to maximise the opportunities available in Australia.
"After an extensive market search, Vertech and its owners were identified as the company that fitted the profile of what we were looking for on many levels. Vertech has many of the same clients locally that Global has built international relationships with – hence the combined companies will be well placed to provide a wider range of quality specialist services to some of the largest offshore drilling, construction, maritime, production and repair and maintenance contractors in the world."
Global chief executive Iain MacGregor said the group was approaching its first anniversary in the Australian market.
He added: "The acquisition of Vertech adds an important expertise in integrity inspection in our Asia-Pacific portfolio."
Global has invested about £15million in its Asia-Pacific operations to date and another acquisition is expected shortly.
Vertech's management team will remain with the business.
General manager Andy Corbe said: "We can now fully broaden our horizons and offer a fuller range of services to our clients.
"We are able to do this without compromising the excellent culture we have built within the business, our quality of service provided to our customers, or our integrity."
Global said last month its 2011-12 turnover had soared during a busy financial year. Turnover jumped 46% to £250million in the year to March 2012, while earnings before interest, taxation, amortisation and depreciation were up 25% to £17.2million.
The group's improved financial performance came in the year it acquired the 238-acre Nigg Energy Park on the Cromarty Firth, where it plans to spend nearly £10million on refits between now and 2016.
Global is expecting turnover of around £50million in the current financial year from Asia-Pacific: its second biggest hub after Europe.
In April, Japanese conglomerate Mitsui and Co took a 25% stake in Global. The remainder of the company is owned by the MacGregor family.
Recommended for you

Aberdeenshire-based STATS Group appoints new director