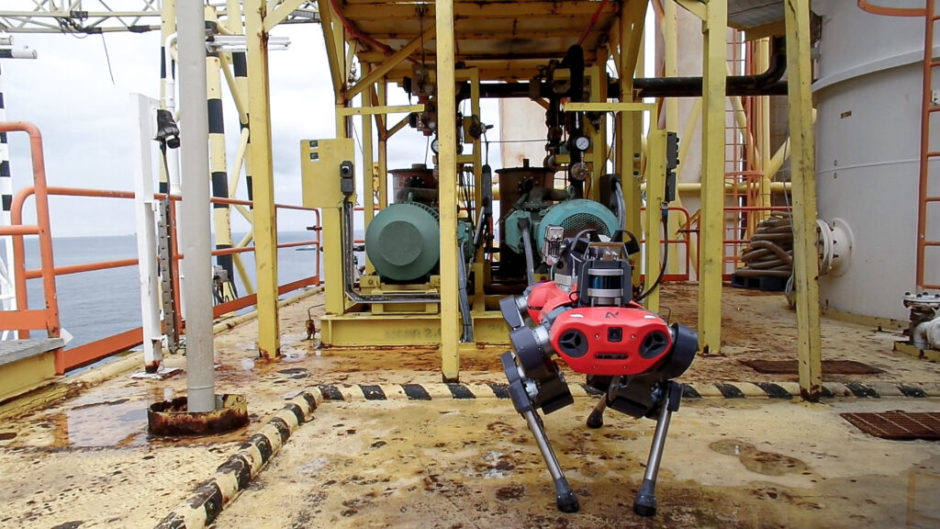 Malaysian national oil company (NOC) Petronas and robotics company ANYbotics are co-developing a four-legged dog-like robot for autonomous robotic inspection at offshore oil and gas platforms.
Petronas recently finished a successful multi-week test of the robot ANYmal C at its offshore platform Dulang B. The test was part of a push by the Malaysian company to deploy robotics technology to inspect unmanned production operations. Its partnership with ANYbotics focuses on bringing robotic routine maintenance to offshore and onshore facilities.
Although the robot, which will be certified for environments with a high risk for explosions, is co-developed with Petronas, it will be offered to the global market by ANYbotics. It will be designed according to IECEx international standards. The pair are targeting commercial use of the ANYmal canine robot in potentially explosive environments by 2022.
"Our motivation is to deploy robotic solutions to reduce HSE risks and OPEX by minimising offshore workforce deployment and logistics," said Petronas.
Petronas plans to use the robot ANYmal to improve workflows with better data tagging and automatic inspection reporting.
The inspection tasks include general visual inspection, digital readouts of analog and digital gauges, thermography, and acoustic analysis of rotating equipment.
The offshore tests have confirmed ANYmal's performance under adverse conditions including slippery terrain, strong winds, and operations in day and night, said Petronas.
"Offshore platforms have large open spaces towards the ocean that are challenging for autonomous navigation. However, the LIDAR-based localisation of ANYmal has proven robust even in these cases, and we were able to successfully test all functionalities, including autonomous charging on a docking station," added the NOC.
Oil and gas sites are demanding environments that include steep industrial stairs and are exposed to extreme weather conditions. Built on the mobility of four legs, the ANYmal robot has proven its capability to navigate these challenging terrains safely.
"Our plants are built for humans and often provide only little space for general passages. We have been testing ANYmal in various challenging situations and are impressed by its versatile mobility that doesn't require us to make any adaptations to our facility," reported Petronas.
Recommended for you

Petronas awards Fugro deal to progress Kelidang offshore Brunei