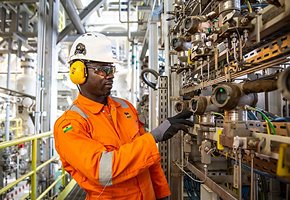 Eni reported strong results for the fourth quarter, with an adjusted operating profit of 802 million euros ($972.5mn) reported at its exploration and production unit.
E&P results were up 60% from the previous quarter, with stronger oil prices driving the recovery.
Eni's CEO Claudio Descalzi said 2020 had been a "year like no other" but that the company had reacted quickly to the crisis. It cut capital expenditure and strengthened liquidity, while continuing its energy transition shift.
Adjusted net profit in the fourth quarter was 66mn euros ($80mn). For the full year, it reported a loss of 740mn euros ($897mn). Adjusted EBIT was 1.9 billion euros ($2.3bn) for the full year, down 6.7bn euros ($8.12bn).
"The fourth quarter operating profit and net profit outperformed estimates, achieved through a $44 per barrel oil price, underpinned by our operating cash generation and the effectiveness of our response to the crisis," Descalzi said.
"The upstream business is strengthening its recovery, while our businesses in the production and sale of decarbonised products achieved excellent results in the year, driven by a 17% EBIT increase from Eni Gas e Luce, a 130% increase in bio-refining processing and 1 GW of new solar and wind generation capacity already installed or sanctioned."
The CEO noted Eni's entry into the UK's strategic Dogger Bank offshore wind project, "which will be the largest in the world in the sector".
Borrowing remains around the same level as at the end of 2019, he continued. The company's adjusted cash flow of 6.7bn euros ($8.12bn) was enough to cover capex with 1.7bn euros ($2.06bn) to spare. Eni cut capex by 35% from its original plans for 2020.
Performance
Production in the fourth quarter was down 11%, at 1.71mn barrels of oil equivalent per day. Eni blamed the decrease on COVID-19 and OPEC+ production cuts, in addition to lower gas demand primarily in Egypt.
Eni produced 809,000 bpd of liquids in the quarter, down 13% year on year. Reductions in Libya and as a result of OPEC+ cuts were somewhat offset by growth in Mexico at Area 1, Angola's Agogo start and the Nenè phase 2B in Congo Brazzaville.
The Italian company expects to restart the Damietta LNG plant in Egypt in the first quarter.
As oil prices rose, Eni's refining margin in the fourth quarter fell by 95% year on year. Demand in Italy was down around 20%.
Beyond its hydrocarbon business, Eni flagged up progress in the energy transition. It has expanded into the US renewable market under a deal with Falck Renewables, covering wind and solar, for instance.
It is also working to capture and offset emissions. The UK's Oil and Gas Authority (OGA) awarded it a licence to build a carbon storage project in the Liverpool Bay. Eni has also invested in forestry projects, such as the Luangwa Community Forest Project in Zambia.
Recommended for you

Mozambique, with Eni, celebrate first LNG export