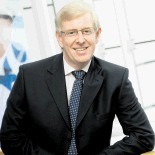 North Sea-focused independent oil and gas company Fairfield Energy said yesterday that drilling had started on the first of a three-well campaign in the Darwin area.
Darwin is estimated to contain 500million barrels of oil in place.
The area includes the southern end of Block 211/27a – known previously as the North West Hutton field – together with an extension into Block 211/27e and lies about 80 miles north-east of Shetland.
The well is being drilled from the Ocean Nomad. The drilling campaign follows a multi-year programme of subsurface work comprising new 3D seismic and static/dynamic modelling which Fairfield said had resulted in the identification of significant in-place volume.
Fairfield holds a 50% interest in both blocks following a 50% farm-out to Taqa Bratani earlier this year.
Fairfield chief operating officer Ian Sharp said: "This exploration and appraisal programme is a very exciting event in the history of our company. The multi-well programme is testing a significant opportunity which has the potential to be a material North Sea field."
Options for the development include a tieback to the nearby Fairfield-operated Dunlin platform, a floating production vessel or a fixed platform.
The company said earlier this month it was looking to recruit up to 20 people in the next 12 months after moving into a new base for its North Sea operations.
Fairfield has signed a 10-year lease worth several million pounds on a larger 25,000 sq ft building at Arnhall Business Park, Westhill. Over 180 employees and contractors have relocated to the site in Aberdeenshire.
In July, Fairfield announced more private-equity investment in the business to allow it to pursue growth opportunities.
Riverstone Holdings invested £97million in Fairfield and gained a stake of about 30% – the same as lead investor Warburg Pincus. The remaining stakes are held by five other private-equity investors.