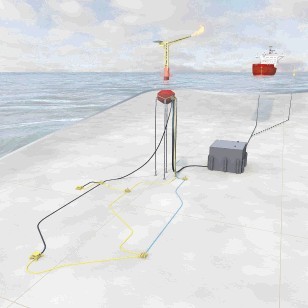 Enegi Oil has plans to produce from fields in the UK North Sea using "game-changing" buoy technology.
The Manchester firm said equipment developed by Aberdeen company Advanced Buoy Technology (ABT) would make marginal fields economic.
Enegi has just been offered two licences by the Department of Energy and Climate Change in the latest round.
These are the firm's first licences in UK waters.
Enegi said the applications for the licences were based on identification and evaluation of assets suitable for buoy technology, as conventional development solutions may not be economically feasible.
It added: "Of greatest importance in selecting these assets was a clear indication of the presence of hydrocarbons, remoteness from available infrastructure meaning that a small, standalone development solution would be necessary, and a physical environment that would allow a buoy to be successfully implemented."
The two licences Enegi was offered contain the Phoenix discovery in the central North Sea and the Malvolio prospect in the East Shetland Basin.
Phoenix is said to have unrisked recoverable resources of 9-51million barrels of oil, while Malvolio has a broader minimum and maximum unrisked recoverable range of 8-95million barrels.
Enegi chief executive Alan Minty said yesterday: "Buoy technology is a game-changing technology for the UK continental shelf and we are delighted to have been awarded these blocks with a view to implementing it.
"These licences, which were specifically identified, are all in the optimum operating envelope for ABT's buoy technology and we believe this technology offers the best chance of commercialising the discoveries and prospects that have already been identified on them.
"Our entry in the North Sea and collaboration with ABT is . . . in line with our strategy of creating a diverse portfolio of assets with reduced risk; where previous exploration and appraisal activities have proved up the presence of hydrocarbons, while the economics have previously prohibited development of these assets."
Enegi's current operations are focused on opportunities around the Port au Port Peninsula, in Newfoundland, Canada and the Clare Basin in County Clare, Ireland.