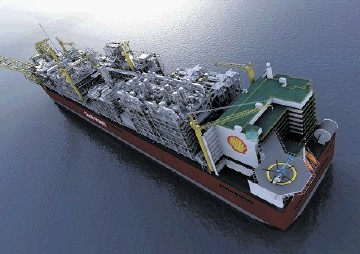 First steel has been symbolically cut and now its full steam ahead on Shell's pioneering Prelude floating liquefied natural gas (FLNG) facility at Samsung in South Korea.
More than 260,000 tonnes of steel will be swallowed in the construction of the vessel, which is about five times the amount of steel used to build the Sydney Harbour Bridge.
When completed, the Prelude FLNG facility will measure 488m length overall by 74m breadth, ranking it as the largest offshore floating facility ever built.
Once fully equipped and with its cargo tanks full, it will weigh more than 600,000 tonnes. There will be over 3,000km of electrical and instrumentation cables on the Prelude, which approximates to the distance from Barcelona to Moscow.
In order to meet the world's growing energy demand, bringing new supplies to market is critical. The Prelude facility will be deployed in Australian waters over 200km offshore.
It will produce gas at sea, turn it into liquefied natural gas and then transfer it directly to the ships that will transport it to customers.
Once operational, the Prelude FLNG facility will produce annually at least 5.3million tonnes of liquids: 3.6 million tonnes of LNG, 1.3million tonnes of condensate (equivalent to 35,000barrels per day) and 400,000 tonnes of liquefied petroleum gas.
The Prelude field was discovered in the Browse Basin offshore Western Australia during 2007. Together with its neighbouring field Concerto, reserves are said to be in the order of 3trillion cu.ft.
A Shell team will manage the multi-year construction of the FLNG facility to ensure the Prelude project's critical path element safety, quality, cost and schedule are met.
The super-major is working with Samsung, subsea contractor Technip, moorings specialist SBM and a supply chain that stretches around the globe to deliver Prelude.
At peak, around 5,000 people will be working on the construction of the FLNG facility at Samsung while another 1,000 will build the turret mooring system, subsea infrastructure and suite of production wells.
Prelude FLNG is the latest in a line of Shell achievements in developing new technologies for the oil and gas industry, reinforcing its leadership in technology and innovation. This is the first of what the company expects to be multiple FLNG projects.
Many of the technologies being incorporated into Prelude have been used successfully onshore and adapted for the offshore environment.
New technologies developed by Shell for its liquefied gas floater include: managing sloshing in LNG tanks; systems for managing the close coupling between the producing wells and the LNG processing facility; LNG offloading arms; water intake risers; mooring systems; and the marinisation of processing equipment such as absorption columns and the main cryogenic heat exchangers.
Shell says that all have been extensively modelled and tested to ensure they can operate safely and efficiently under marine conditions.
It has been a long road to the world's first FLNG facility and the expectation is that Prelude will open the door to the development of gas resources ranging from clusters of smaller more remote fields to potentially larger fields via multiple facilities where, for a range of reasons, an onshore development is not viable.
This could mean faster, cheaper, more flexible development and deployment strategies for resources that were previously considered uneconomic, or constrained by technical or other risks.
Shell's partners in Prelude are Inpex (17.5%) and Korea Gas Corporation (10%), which joined early this year. An Australian subsidiary of CPC Corporation (5%) has also signed an agreement to do so.
Recommended for you

Indonesia's Pertamina pushed to buy Shell's stake in Masela LNG project