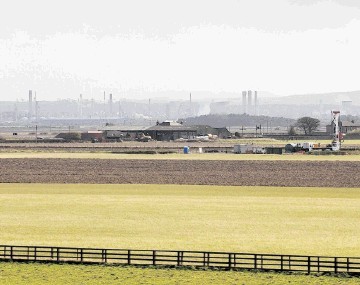 Coal bed methane (CBM) production in Scotland's central belt is on the verge of commercialisation.
Dart International, the soon-to-be UK-listed break-out firm from Australia's Dart Energy, brought its first CBM well onstream at Airth, south of Stirling, in June in a gas-to-electricity pilot.
Drilling on two more pairs of wells – Dart drills two wells with gas produced from one – is due to start this month and a planning application has been submitted for a further 11 pairs.
It is hoped all 14 could be producing by the end of next year, subject to regulatory and planning approval.
It is also just the start for Airth. The 14 well pairs cover just 10% of the 330 sq m licence Dart holds at Airth.
The firm's next challenge, armed with the in-seam drilling expertise it has built in this first phase, will be to see what prospectivity there is in the other 90%.
Mark Lappin, Dart's Europe general manager, based in Perth, Scotland, said: "We will be looking to expand our exploration to see how far this play continues within the licence.
"2P resources have been demonstrated by previous drilling but we want to expand that through further exploration drilling."
Drilling first started on the PEDL133 Airth licence in the 1990s. Ten wells were then drilled by Composite Energy, bought by Dart in 2011, between 2004 and 2011.
Now Dart thinks the economics and technology are right to develop the play. Estimates of gas in place on the CBM acreage are about 600 billion cu ft.
To access it, Dart is using a technique it developed in Australia. It drills a 1,000m-deep vertical well – the producer – and then another well about 400m away from which four laterals split off from the motherbore, travelling though four separate 1-2m deep coal seams and intersecting the producing well before continuing through the seam for up to 1km.
Water, which through pressure holds the gas bound into the 350million-year-old carboniferous coal seam, is then pumped out releasing the gas, which then can flow into the producing well, said Lappin.
Dart International chief executive John McGoldrick said: "We are very pleased that the in-seam drilling technique works in the Airth area.
"We have demonstrated the ability to extract gas and generate electricity for feed into local network without the need for hydraulic fracture stimulation.
"Subject to all regulatory approvals being in place, the next stage is to deliver gas to the grid for domestic and business use."
Production estimates for the first pair of wells, using the previously drilled Airth 1 well, now the vertical production well, and the new horizontal Airth 12 well with its four laterals, are about 1million st cu ft per day, but work is ongoing to optimise this.
The initial gas-to-electricity project, started in June, is enabling the firm to test and optimise the well without wasting the gas from it and, crucially, before it makes a major decision or outlay on surface infrastructure.
This will include compression and water treatment facilities, which would then be developed in tandem with the drilling of the rest of the project once consents are issued – which makes the unconventionals business driven in a distinctly different way to conventional sectors, said Lappin.
Data and reservoir characteristics are learned as you drill – the biggest part of the outlay in onshore unconventionals, he said.
"The key with unconventional gas is to pace the understanding of the reservoir with the investment in facilities," said Lappin.
"In conventional you get all your information up front – the money goes out and in a very different way."
In full production, surface power facilities would be run from gas from the field.
Lurking beneath Dart's CBM acreage at Airth, however, is another play – potentially containing gas bearing Broxburn and Black Metal shale.
This is held by Dart and BG Group with estimates of total gas in place put at 597billion cu ft.
Dart, however, told Energy it is not assessing this shale acreage at present and that it is focussed on CBM extraction.
Outside Airth, the firm has recently drilled an exploration well near Scunthorpe, in north Lincolnshire.
It is currently looking at plans for a number of other exploration wells in 2013 in the UK, said Lappin.
In its last quarterly report, Dart Energy said it intends to start to drill more than 20 exploration wells across various UK licences up to 2014.
o Facts and figures
The rationale behind Dart International's listing on the Alternative Investment Market, following the creation of the firm out of parent Dart Energy, is the different market dynamics behind the Australian market and the rest of Dart's portfolio.
Australia's coal bed methane industry focuses on commercialisation through exporting it's gas as LNG (liquefied natural gas).
Dart International's portfolio, however, (in the UK, Asia and Europe) is seen as a more rapid commercialisation for domestic markets.
Dart is hoping to raise £30million through the listing, adding to $100million is has secured through a reserve back loan from HSBC ring fenced to the Airth project.
According to analysts, most of the cash is to be spent developing Airth, anticipated to reach production of 10million cu ft per day by October next year.