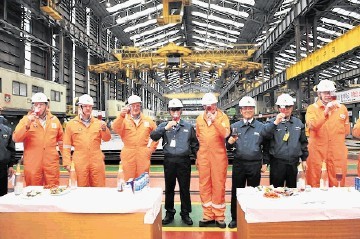 As the UK Atlantic Frontier – aka West of Shetland – comes of age, so exploration and development momentum builds. There is a buzz about the province as the pace quickens and more discoveries graduate to the development category.
Clair Ridge, Laggan-Tormore, Quad 204 (redevelopment of Schiehallion area) and Rosebank are the big headliners, plus more modest Solan.
However, the current wells schedule for Danish company Dong Energy reveals several more that are quietly graduating into the development candidates category.
They include: Cambo (oil), Glenlivet (gas), Tornado (gas and oil), Edradour (gas – condensate) and Tobermory (gas). Appraisal work continues on, for example Cambo where, Chevron has been given the go-ahead to drill the Cambo-5 well.
That the level of interest in WoS is growing is evident in the results of the UK's recently announced 27th Offshore Licensing Round awards and the fact that Shell is back, notably through buying into BP's Foinaven asset.
Class leader by far is BP. Its planned WoS expenditure is in the region of $16billion (£10billion gross) over the next few years. This is mainly for the second phase of Clair (but not Greater Clair) and the re-development of Schiehallion. In addition to this will be the costs of drilling programmes on Clair and Schiehallion that are yet to be approved by BP and partners in the various assets.
BP regional president – North Sea, Trevor Garlick, who is a reservoir engineer by discipline, is very positive about the future out west, having been assigned to Clair in the early 1990s as the company sought to break its geological code.
"We've got a huge investment programme in West of Shetland and we're now well into execute."
The core projects are Clair Ridge, Quad 201, a modicum of exploration and gestating a H2S project that would cover oil souring issues at Clair and Foinaven. A massive amount of development drilling will be carried out.
o Clair Ridge and Quad 204
"We've started development drilling, with one well completed," Garlick told Energy. "The aim is to get two or three ready before start-up. It's great to have the first one in the bag and the well looks good. Once the first three are drilled, we'll be drilling from the platform . . . up to 36 wells are to be drilled on Clair Ridge.
"The jackets are well on the way at Aker Verdal in Norway and we've started the topsides work at Hyundai in South Korea. The project is on track for 2016 first production.
"The other thing we're doing up there, on the back of when we've finished drilling Clair Ridge, we'll start an appraisal programme on what we call Greater Clair, which I'm hoping will lead to a third potential development in the Clair area. Clair has about 7billion barrels of oil in place and the first two developments only tackle about half of that."
Although the other half would be tougher as some of it is in tighter rock, there is a huge volume of oil to be chased. BP intends to start appraisal next year.
Garlick: "The final number of wells is to be agreed with our partners, but I think we have agreement on the first five, which is pretty stunning.
"The hope is that enough accessible oil will be found to enable a full-scale third project based on a further platform. We're currently at the appraisal and pre-concept stages."
Greater Clair will also trigger a push to raise recovery rates from this vast resource.
Turning to Quad 204, this should come onstream at about the same time as Clair Ridge gets going.
The plan is to start drilling on the Quad in 2014 using a newly-ordered rig, the Deepsea Aberdeen. BP is taking the Odfjell unit for about seven years for back-to-back drilling in the area.
"There are at least 24 wells planned; then there are other locations to drill . . . some exploration and some appraisal. We may even have future Clair wells to be drilled," said Garlick.
"All in all, it's a huge campaign of development drilling West of Shetland that has started and there are some 60 wells to go."
Construction of the hull and topsides of the Schiehallion replacement production ship has started, also at Hyundai, while the turret is being built in Singapore.
Meanwhile, preparations are being made to shut down and remove the existing vessel from the field. That is due to take place early in the new year; then the ship will be taken to Rotterdam pending sale.
The irony for BP is that the company has been enjoying the best sustained performance from Scheihallion, having experienced numerous problems since start-up in 1998.
"We've probably hit 75-80,000 barrels per day this year whereas previously we were sub-60,000bpd gross," added Garlick.
o Mitigating the H2S risk
Souring is a major issue for many oilfields around the world, including the North Sea. BP faces this problem West of Shetland and is doing something about it.
A team has started doing concept work on the H2S (hydrogen sulphide removal project, which will initially focus on Clair and Foinaven, but could be extended.
"Most of the (WoS) fields have H2S or are likely to, so, together with the partners in the assets, we're looking at an H2S removal plant at Sullom Voe with early design started," said Trevor Garlick. "Clair and Foinaven have some H2S production with the oil, Schiehallion doesn't but it might do one day, largely through reservoir souring."
It is a secondary benefit, but BP's plan to use "Low Sal" . . . cleaned low salinity water for enhancing oil recovery . . . also helps mitigate the H2S risk.
The real purpose of Low-Sal is to enable a further 40million or so barrels of oil to eventually be produced from the Clair Ridge area. However, Garlick is hopeful that it will entirely prevent H2S from becoming an issue at the Ridge, though there is no certainty of this.
"We're in project appraisal . . . early stage of concept definition," said Garlick. "Then I think we see a three to four years project from that.
"In terms of execution it probably wouldn't happen until about 2014 and the cost will be several hundreds of millions of dollars."