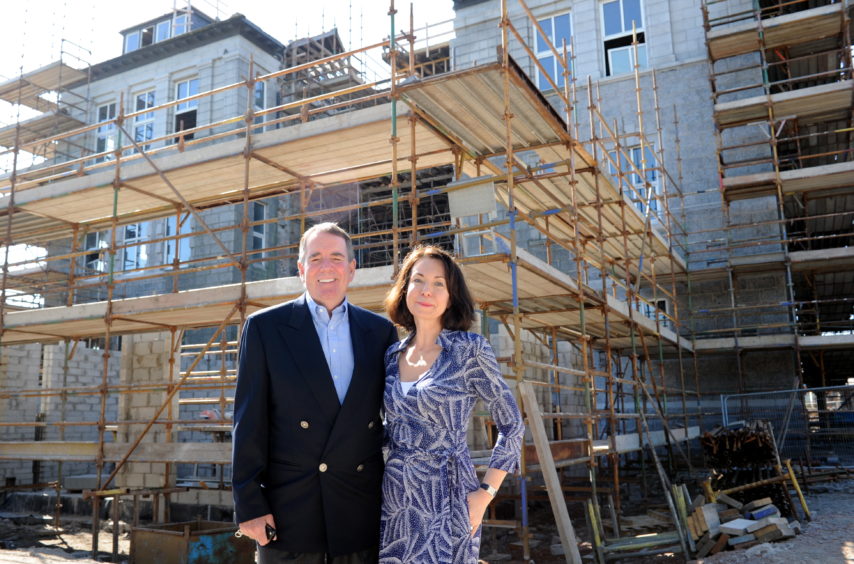 A retired oil tycoon has been ordered to pay a firm more than £210,000 following a contract dispute over a housing development.
Mile End Developments Ltd, owned by Gareth Jones and Suzanne Jones, must pay Crimond Estates Limited the cash following a Court of Session ruling in relation to the scheme at the former Mile End School.
The court said the sum of £213,101.56 must be paid to the firm owned by property developers David Suttie and Charles Ferrari.
Mr Ferrari is behind the Woolmanhill Hospital development, with plans to turn the historic building into flats being abandoned last year in favour of a hotel.
His firm has also bought Greyfriars Church on the city's Broad Street, with plans to turn it into a restaurant and bar.
Mr Jones, who sold his oil business Dominion Technology Gases for £30 million in 2007, agreed a contract between Mile End Developments and Crimond Estates in 2013 relating to a development of flats at the site of the former Mile End School in Aberdeen.
The terms of the agreement stated Crimond Estates Ltd would provide management services to Mile End Developments Ltd in exchange for an entitlement to certain specified shares of the ultimate net sale proceeds.
Mile End Developments terminated the agreement in November 2016, which Crimond Estates stated was unlawful and sued for damages for breach of contract or, alternatively, for remuneration for services supplied.
Mile End Developments insisted the contract was lawfully terminated and denied that any sum was due to Crimond Estates.
However, Lord Tyre has ruled that Mile End Developments "was not entitled to terminate the contract on November 18 2016, and was in breach of contract in so doing". He granted a decree for Mile End Developments (MEDL) to pay Crimond Estates (CEL) £211,831.63 "by way of remuneration for its services up to the termination date".
And Lord Tyre also granted a further decree for payment of £1,269.93 for CEL's "project management services after the termination date".
Coming up 
Gareth Jones made his fortune in the offshore industry.
He once let a "world-famous racing driver" take his £500,000 Pagani for a drive in Aberdeenshire in 2009 – only for the unnamed ace to crash it into an electricity pole on an unnamed road between Auchnagatt and Drumwhindle.
Formula One legend Jackie Stewart was forced to deny local rumours he was behind the wheel of the car at the time and the identity of the driver remains a mystery.
After the crash – the most expensive in insurance firm Aviva's history at the time – the Zonda was sent back to Pagani's headquarters in Italy where it was given a complete overhaul at a cost of £261,000.
Court of Session documents stated: "On 18 November 2016, a notice of termination was served by MEDL's solicitors on CEL's solicitors on the ground that development costs exceeded the budget by 5% or more without such excess having been previously approved in writing by MEDL.
"Despite the termination, Mr Suttie and, to a lesser extent, Mr Ferrari, continued to carry out work in relation to snagging and sales, until Mr Jones sent an email in April 2017 instructing CEL to stop all work."
Documents also state: "Mr Suttie is a former bank manager. He has been concerned in property development for around 15 years, his principal area of expertise being in relation to development funding."