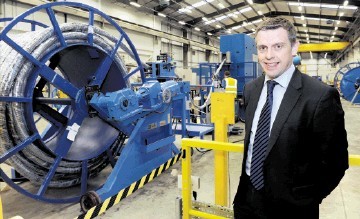 After having been honoured twice for success in international markets, you would think Hydrasun would take some time to enjoy its success.
Neil Thompson, one of the directors at the Aberdeen-based energy service firm, already has his eye on new overseas markets, however.
The specialist provider of integrated fluid-transfer, power and control services to the global energy market has now picked up the achievement in international business award for the second year running at the Northern Star Business Awards; impressive for a company which less than 10 years ago relied on the UK for 95% of its sales.
Mr Thompson, 39, director of strategic business development, said exports now accounted for more than one-third of turnover, adding: "It is quite amazing to think about our exports. We now successfully work in 60 countries out of Aberdeen.
"The fact that Aberdonians are well travelled helps; the company is now recognised in an international context as people from here know the Hydrasun name, which is great for us."
Hydrasun's overseas expansion has helped it reach annual turnover of £85million, with £31million of that coming from exports. Turnover in the current financial year is expected to hit £105million.
The workforce has also grown. Hydrasun has recruited about 100 people in the past year, taking its total to nearly 600.
Mr Thompson joined the business in 2003, just as it was beginning to focus on international markets.
The former Mackie Academy pupil arrived at Hydrasun from Salamis, and although his career has been spent solely in oil services he was only drawn to the industry after his father spotted a Salamis job advert in the Press and Journal.
After moving away from the family farm at Netherley, near Stonehaven, to study quantity surveying at Robert Gordon University, Mr Thompson spent eight years with the industrial service provider, living and working in Aberdeen, but has since received planning permission to build a new home for him and wife Naila on the farm.
Mr Thompson said he was looking forward to "returning to my roots", but has also experienced Hydrasun's international expansion efforts at first hand after living in Azerbaijan for four years to help the company move into the Caspian region.
He said he still enjoyed going back to the country with Hydrasun to see how it has been changed by the oil and gas industry, adding: "Baku is a big city which has developed incredibly over the past five years.
"It has been really interesting to see how oil revenue can change the fabric of a city and a culture, because that is essentially what happened to Aber-deen with the discovery of oil in the North Sea."
Mr Thompson said that, while the UK market would remain central to Hydrasun's business, the firm had to continue pushing into new countries to grow.
He said: "We are no different to many companies in Aberdeen, and if the city is going to have a sustainable future we need to look beyond the North Sea.
"Hydrasun is just one of a number of successful companies making that transition; we have been a UK-centric company in the past, and even now we are still in a period of transition to becoming a truly multinational company."
Mr Thompson said that, while mature markets such as Norway and the Middle East were proving to be fruitful, it would be emerging markets such as eastern Europe, west Africa and South America which would take the company to the next level. He added: "We have a very good spread across the world, which enables us to grow our business. We see west Africa as being a continuing area of successful growth for us, especially Angola. There is also a lot of capital investment in Brazil, which will continue for several years. There is no reason why we cannot build our export business in these locations.
"The UK will remain the mainstay of the company, but you can see how the balance will continue to shift towards more international business. We are still a medium-sized business, but in the years to come we can become far bigger than we are now."
Recommended for you

Auchincloss 'most logical successor' as analysts review 'undervalued' BP stock