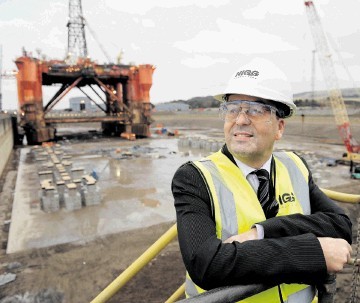 Global Energy Group revealed yesterday that Nigg Energy Park was becoming increasingly attractive to North Sea rig operators.
The company has recently landed several rig refurbishment contracts, worth a total of up to £100million, which will start within weeks.
The first oil rig to receive a refit at Nigg for nine years arrived in March at Global's Easter Ross harbour.
More than 250 people worked on the Transocean Galaxy I at the Nigg Energy Park for three months.
Global wants to augment its workforce by hiring trades people, including welders, pipe-fitters and platers, on long-term contracts.
It is also aiming to recruit people in areas such as project management and other senior positions.
Global executive chairman Roy MacGregor said: "At present these opportunities fall within oil and gas-related work, butwe are still workinghard to maximise any opportunities within the emerging renewables industry.
"We continue to market the clear advantages of the Nigg facilities to renewables companies.
"Attractions of the site include having one of the largest dry docks in Europe."
Global is an oil and gas contracting and service company employing more than 4,000 people worldwide.
The Inverness and Aberdeen-based business said turnover had risen by 46% to £250million in the year to March 2012, while earnings before interest, taxation, amortisation and depreciation were up 25% to £17.2million.
Chief executive Iain MacGregor, one of Roy's sons, said the company had performed strongly in the early months of the current financial year.
He added: "We are now selling £30million of services per month to the industry, which represents a further 45% growth since concluding our 2012 financial statements.
"The Nigg Energy Park has been an important contributor to our increased sales, coupled with strong demand for offshore integrity work in the North Sea.
"We are also seeing positive growth in our businesses in Australia, Brazil and India."
Roy MacGregor said Global was on target for turnover of around £360million in the current financial year.