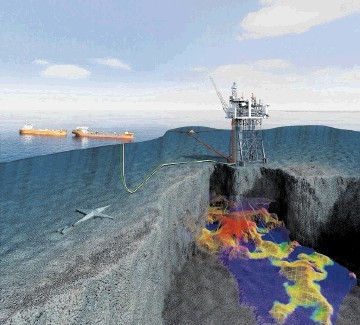 Energy giant Statoil said yesterday it would start recruiting 200 staff in the next three months for its new Aberdeen operations centre.
The Norwegian group said it had not yet found a site for the headquarters – which will manage its Mariner field development – and was still looking for a suitable location.
The announcement came as the group moved ahead with the £4.3billion Mariner development around 80 miles south-east of Shetland.
The heavy-oil project is also expected to create a further 500-plus UK jobs offshore, as announced previously.
Lars Bacher, executive vice-president for development and production international at Statoil said: "The Mariner field was discovered in 1981 and Statoil entered the license as operator in 2007 with the aim of finally unlocking the resources.
"We are satisfied that we now are able to make an investment decision for a profitable development of the Mariner field."
Pending final approval by the UK authorities, Statoil expects to start production from Mariner in 2017.
Mr Bacher added: "This project will entail substantial job creation in the Aberdeen region, with more than 700 long-term full-time positions."
The field is expected to have average production of about 55,000 barrels of oil per day over the plateau period from 2017-20.
Mr Bacher said: "The North Sea is a core area for Statoil and we look forward to taking a leading role in further developing the UK part of the basin," adding that dialogue with the UK authorities over Mariner had been very good and had increased confidence to "mature" Bressay, also off Shetland, to a production decision by late next year or early 2014. In June, Statoil announced plans to invest £18billion in the two fields. This figure was made up of development costs, plus operational costs over future decades.
Mariner and Bressay – two of the UK's largest untapped oil finds – could still be in production 45 years from now. Their future was thrown into doubt last year after the UK Government's unexpected tax raid on oil and gas operators, however, after the Treasury announced tax breaks to encourage investment, Statoil said the projects were back on track. Between them, the fields could hold up to 800million barrels of recoverable oil.
Mike Tholen, of industry body Oil and Gas UK, said yesterday: "The approval of Mariner can in part be attributed to recent close engagement with the Treasury and the resulting tax changes aimed at boosting investment.
"Mariner requires pioneering technology and will bring hundreds of high-skilled, long-lasting jobs across the country."
Statoil has a 65.1% stake in Mariner and its partners are Alba Resources – a subsidiary of Cairn Energy – with 6% and JX Nippon Exploration and Production UK with 28.89%.