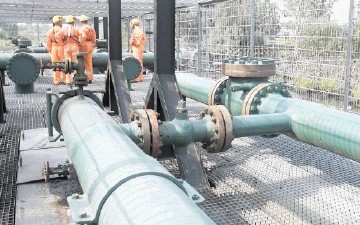 Three years after going it alone to run a new oil business in Nigeria, two north-east businessmen are now sitting on a field they think could produce 50,000 barrels a day in four years.
They also hope gas from the development which would otherwise have been burned off because of a lack of power stations or infrastructure will be used to bring electricity for the first time to 18,000 Nigerians living in the licence area.
That is no small feat for a small team in a country well known for its challenges and on a field that had been shut in since 2006.
Eland Oil and Gas chief executive Les Blair and finance director George Maxwell are not fazed; they see a huge prize in Nigeria, Africa's main oil producer.
Mr Blair said: "There are over 800 fields in Nigeria that have not been developed. It is a market very fertile for small independents like us and it is very similar to what is happening in the North Sea at the moment."
The pair met while working at Nigeria-focused Addax Petroleum, but its takeover by Sinopec in 2009, a large state-owned operation with a different corporate culture, and then an opportunity offered up by Shell auctioning off assets, led them to set up their new company. For eight to nine months they were self funding, getting Westhill-based Eland – named after a type of antelope – off the ground.
Huntly-born Mr Blair, who has been living mainly in Nigeria since 1998, said that working with a former Addax partner they bid for the OML 40 licence, an area in the Niger Delta "swamp" covering 193,000 square miles, and then set out to raise some cash before listing on the Alternative Investment Market in September.
It turned out to be the largest oil and gas capital-raising on Aim in five years and the largest overall on the market in three years. Mr Blair said: "Africa is a difficult place to work.
"But the returns are high, especially in natural resources and especially if you understand how to work within the confines of its legislation.
"The difficulty many companies have is understanding Nigeria. There will still be issues coming up every day that are not expected, but it is an area that is on the move; it is a growing nation and attracting capital."
The issues with working in Nigeria, a nation with 250 languages, means assets can be bought cheaply. Eland paid a price which valued OML 40's contents at £1.20 a barrel, compared with an average of £7.40 in the North Sea.
Despite the field having been shut in since 2006 the firm, with a market capitalisation of £160milllion, is confident it can produce 50,000 barrels per day (bpd) in four years, in partnership with indigenous Nigerian company Starcrest Nigeria Energy and state oil company NPDC.
Addax, in its early days, saw its production rise from 35,000 to 120,000bpd over three years using just two rigs, said Mr Maxwell, indicating the "prolific nature" of the quick-to-drill shallow wells in the region.
OML 40, for which infrastructure remains in place, is one of many licences that have been underdeveloped, said Mr Blair, because the majors that dominated the basin historically had no specific work agreements or obligations on the fields and were now focusing their cash elsewhere on larger prizes such as deep water, Arctic exploration and liquefied natural gas.
He added: "That's why we believe we can add value; and there are others like OML 40. We think our experience, background and reputation will stand us well."
Mr Blair lives in Abuja, Nigeria's capital, while Mr Maxwell, who has travelled to Africa for 20 years, works out of the north-east office, where the firm's corporate-finance team is based, and a new office in London, set up for work with City investment institutions.
Recommended for you

Nigeria sees bolt on progress, amid delays for big-ticket deals