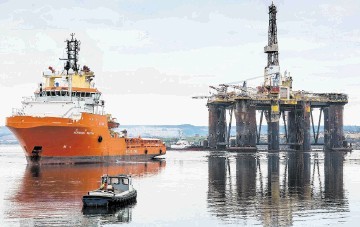 A rig that became a landmark in the Cromarty Firth over the past four years has upped anchors and sailed – to nearby Invergordon.
The Transocean Sedco 712 semi-submersible drilling rig that has been parked in the sheltered water of the firth since January 2009 was towed into the Queens Dock by two anchor-handling tugs and two local harbour tugs for a major refit.
It will now spend about seven months undergoing major maintenance, upgrade and reactivation work.
The Cromarty Firth Port Authority (CFPA) yesterday welcomed the arrival of the rig at the base, which will bring a major economic boost for the Easter Ross area by generating employment.
At the start of this year, the port authority reported that oil and gas activity was promising to be busy in 2013, with demand forecast to be high for all the facilities operating from the firth.
The reactivation of the Sedco 712 marks the start of this busy period.
CFPA chief executive and harbourmaster Captain Ken Gray said: "Rig work has always played a major part in our business.
"A rig undergoing maintenance can bring in several millions of pounds. Figures gathered over the last five years show that, on average, a rig can spend in the region of £300,000 to £500,000 a day."
The Sedco 712, which is capable of operating in water depths up to 1,600ft and drilling to a depth 25,000ft, was built in South Korea in 1983.
It was taken out of commission and stacked in the firth in January 2009 following the collapse of Oilexco North Sea (ONS), which had been using the rig in the UK North Sea.
At that time, Transocean, the world's biggest offshore oil and gas drilling contractor, said the Sedco 712 was demobilised by ONS two days before the company filed for administration.
ONS had contracted the rig from March 2008 until March 2010, at a day rate of more than £300,000.
Transocean said it would take action to try and recover costs from ONS.
A Transocean spokesman yesterday said he did not wish to comment on why the rig had been out of commission but said it had nothing to do with the Oilexco situation.