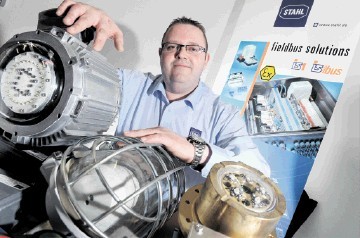 Autumn 2012 marked the launch of R Stahl Aberdeen, a new stock and assembly facility designed to serve the company's existing local distributor network and to act as a catalyst to regional growth.
R Stahl is a global market-leading innovator and manufacturer of explosion-proof technology designed for use in hazardous areas; with a heritage of quality and expertise dating back to 1876 . . . almost 140 years.
An addition to the company's existing UK headquarters in Birmingham, the opening of the facility heralds a new era of growth and opportunity for the organisation.
Investment in the smart new premises also demonstrates clear commitment to Aberdeen and the north-east Scottish economy.
Mike Kitney, operations manager for R Stahl Aberdeen; who has extensive experience with hazardous area equipment and delivering excellent customer/client service, is very optimistic about the future.
"With over 20 years' experience of selling Stahl products, the opportunity to set up and run a new facility in Aberdeen was tremendously exciting," said Mr Kitney.
"As the centre of the UK's offshore oil and gas industry it was important that Stahl had a presence in Aberdeen to support our wholesale partners and enable them to offer fast off-the-shelf service to its customers.
"After five months of operation, I'm pleased to report that we are growing day by day and my motto is, 'if you have it or can build it, you will sell it' as Aberdeen waits for nobody!"
R Stahl's vast explosion-protected product portfolio includes HVAC and pressurised container units, signalling devices, power distribution systems, electrical installation equipment, CCTV surveillance systems, fixed and portable lighting equipment, operating and monitoring systems all designed and produced to the highest quality and exacting standards.
With all this and more than 3,000 certificates for explosion protection, over 70 active patents and membership to numerous standardisation, technical and working committees, R Stahl is fully equipped to create your complete system solution.
Mr Kitney is joined by Grant Stott, Aberdeen regional sales manager who has an electrical wholesale and distribution management background and years of experience within the Aberdeen energy industry.
When asked what benefits the new Aberdeen facility will bring to the company's customers Mr Stott replied: "With over five years experience of the Aberdeen oil and gas market I'm mindful of our customers' demand for an excellent level of technical and logistical service.
"The opening of our office and build facility enables us to meet and exceed expectations providing value to our customers and local distributors.
"We are proud to commit to and invest in the local Aberdeen economy and look forward to many successful years ahead."