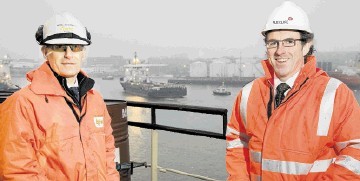 Subsea integrity and project-management specialist Flexlife has been awarded a contract extension by Apache North Sea worth £5million.
The Aberdeen firm originally landed a three-year deal worth £13million and has now secured a one-year extension.
This involves managing work on projects with a capital expenditure value in excess of £130million, plus continued integrity management of all subsea infrastructure and pipelines in the Forties and Beryl fields.
Flexlife said the scope of the work had grown significantly over the life of the contract.
A team of 30 Flexlife subsea staff based in the Granite City and Newcastle is dedicated to the Apache North Sea work and this number could rise over the next year.
Flexlife chief executive Ciaran O'Donnell said: "The company has worked closely with Apache to ensure we meet their ambitious objectives for the successful development of their subsea assets."
Mark Richardson, projects group manager at Apache, said: "The subsea project-management support provided by Flexlife to Apache has been extremely successful. As a result of Flexlife being completely aligned with our objectives, their work has increased as our subsea development opportunities have expanded."