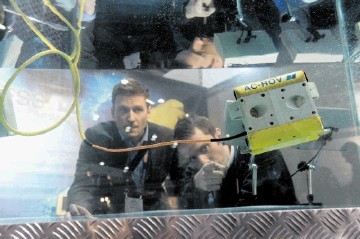 A senior manager at oil firm Apache in Aberdeen said yesterday he expected continued growth in the North Sea's subsea sector but the industry needed to change the way it did business.
Mark Richardson, Apache North Sea projects group manager, said Apache's subsea infrastructure in the North Sea had grown significantly since the Houston-based operator moved into the area in 2003.
The number of its subsea pipelines has increased from 20 to more than 120 and subsea wells have risen from none to about 40.
Mr Richardson, speaking at the Subsea 2013 event at Aberdeen Exhibition and Conference Centre, said the growth was likely to continue. He highlighted an annual 6-7% growth target for Apache the North Sea, which accounts for 10% of the group's overall production, over the next five years.
But he also said there were barriers to growth, including operators being less risk averse when it came to trying and adopting new technology being developed by the supply chain.
He said: "We have got to break that to move forward."
Subsea 7 technology development director John Mair, who was also speaking at the event, said: "We are seeing lots of technology innovation worldwide that we need to take note of.
"Areas like Brazil are building up these technology bases and there are more stringent local-content rules.
"The UK needs to get its act together. It is difficult to get new technology implemented in the UK.
"Academy and industry need to be more aligned and I don't think we are using the small and medium-sized business market as much as we should."
Mr Richardson said the local talent pool needed to be widened and more use made of UK firms for procurement.
He also said changes to the UK tax regime were welcome, especially the brownfield tax allowance, but a stronger and more stable fiscal regime would encourage more operators to invest. Resolving uncertainty over decommissioning costs and allowing smaller firms access to infrastructure before it gets shut down would also help, he added.
Recommended for you

Seplat's Roger Brown sets out his thinking on Nigeria