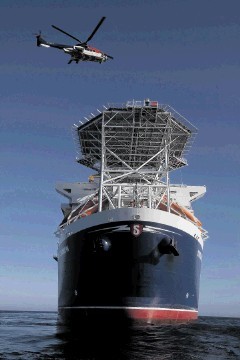 Aberdeen-based oil and gas explorer Faroe Petroleum expects to spend up to £150million this year as it ups its activity in offshore Norway.
The firm expects its 2013 spending on developments and exploration to be mostly in the Norwegian sector, where it will get about £70million back in tax breaks on exploration, after becoming the largest licence holder among UK-listed firms on the Norwegian shelf.
Its UK drilling work this year will include the undeveloped Perth discovery in the central North Sea however, which is operated by Parkmead and 34.6% owned by Faroe.
It is hoped an appraisal well at Perth will add 50% to the field's reserves, estimated at 40million barrels of recoverable oil equivalent. If successful, the field would need a new platform for it to be developed.
Results from an exploration well at the North Uist prospect west of Shetland are also expected in about two weeks, after months of delays to drilling operations carried out by the £500,000-a-day Stena Carron drill ship.
It follows a string of non-commercial exploration wells in 2012, which came to an end with a discovery on Rodriguez South last month, which is operated by Wintershall off Norway.
"Last year, although we didn't have any significant commercial success we made a lot of progress, and we now have 60 licences feeding the exploration portfolio in Norway, Iceland and the UK," said Graham Stewart, Faroe's chief executive.
"This is going to be an exciting year for us. We have a lot of exploration wells and appraisal and development wells.
"On top of that we have still got an undrawn debt facility which we are really keen to put to work on a production acquisition."
The firm's six to seven well exploration plans this year include a 15% stake in the wildcat frontier Darwin exploration well in the Barents Sea, expected to be started by operator Repsol this month and thought to contain up to 600million barrels of recoverable oil equivalent.
The firm employs about 50 staff, up from about 30 last year, across offices in Aberdeen, London and Stavanger in Norway.
Recommended for you

Can oil ever be green? Norway turns to wind-powered drilling