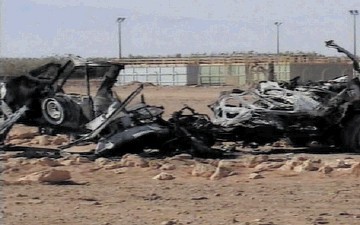 Security analyst Ake Group told oil and gas companies in Aberdeen yesterday that they can expect more attacks on oil workers in some north African countries.
Firms were also warned that they should not rely on governments in countries they are working in for protection.
Andrew Kain, a former SAS instructor and founder of Ake, said: "Companies have to become more self-reliant in terms of security."
Last month's terrorist incident at the In Amenas gas facility in Algeria was the biggest for more than a decade.
Around 40 hostages were killed in the siege — four were employed by oil giant BP.
Six of those who died are understood to have been Britons.
Nearly 30 hostage-takers died, while three were captured by Algerian troops during a special forces mission to end the four-day standoff.
Mr Kain said that although it was unclear how Algerian forces had strengthened security since the attack, the Tunisia and Libyan governments had made overt displays of military strength but their real capability to prevent similar incidents was being questioned.
In countries like Iraq security has cost up to 25% of project budgets, but Mr Kain said there is no benchmark for spending on security.
Developing individual security plans to gain the confidence of employees and insurers is key to firms continuing to operate in the north African area.
Alan Fraser, an AKE risk consultant, added that understanding the complex situation in the region was essential to analysing risk.
The attacks in the area had roots going back centuries and Ake's analysts believed the recent French intervention in Mali would not remove the radical threat.
Yesterday's talk was organised by the Aberdeen and Grampian Chamber of Commerce, highlighting the policies and procedures that businesses need to have in place when working in these high-risk areas.
Prime Minister David Cameron pledged last month to do what he could to protect Scottish oil workers abroad but warned BP and other firms to "redouble" their security efforts after the Algeria attack.
Mr Cameron reminded companies, which employ thousands of people from the north and north-east, that the safety of their employees was always their "primary responsibility".
Algeria's foreign minister said his government was assessing mistakes made in the incident.
Mourad Medelci said Algeria needed to reinforce security.
He added that the attack was not targeting Algeria but "the foreigners who work there".