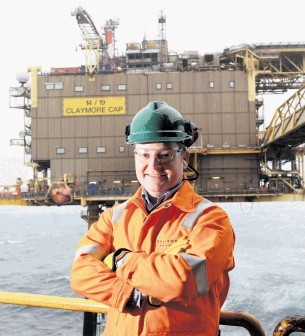 Oil and gas operator Talisman Energy said yesterday the reliability of its North Sea assets had suffered due to years of under-investment.
The firm also said its North Sea output fell last year because not enough funds had gone into its UK operations.
Talisman said it had faced "asset reliability challenges" in 2012, but added the £956million sale of nearly half its UK assets would lead to fresh investment. The Canadian company completed the deal with Chinese oil firm Sinopec near the end of last year, creating Talisman Sinopec Energy.
Yesterday, Talisman said Sinopec's involvement would mean more funds for upgrading existing infrastructure and new developments.
Announcing annual results, Talisman revealed global production was static at an average 426,000 barrels of oil equivalent (boe) per day last year.
Gains at its south-east Asia, Colombia and North America operations were cancelled out by a 30,000boe drop in daily production to 76,000boe in the UK and Norwegian sectors.
Most of the fall was on the UK continental shelf, where daily output was down by 19,000 to 52,000boe.
Talisman Sinopec, which is led by chief executive Geoff Holmes, has interests in 46 fields and operates 11 offshore installations and an oil terminal at Flotta in Orkney.
Reviewing its North Sea performance, Talisman said: "Production has fallen over the previous year, largely due to under-investment in recent years contributing to asset reliability challenges as well as reduced production capability.
"In 2013, the focus is to improve the reliability of existing assets and the execution of economic redevelopment and life extension projects."
Despite the pledge that more would be invested in its UK business, Talisman said its 2013 capital budget had been cut by a quarter to around £1.9billion.
Talisman has invested £11.5billion in its UK operations since entering the North Sea in 1994 and last year announced plans to spend £1.6billion on the redevelopment of the Montrose area.
The company slipped into the red last year – suffering pre-tax losses of £111.9million, compared with profits of £1.6billion in 2011, while turnover fell by 11% to £4.7billion.
Recommended for you

UK North Sea sees chance for political reprieve in energy crisis