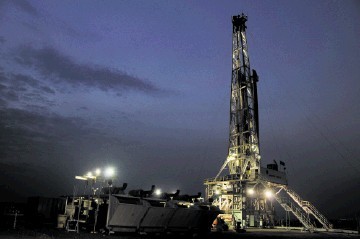 Tullow Oil's share price rose yesterday as its end-of-year results confirmed market expectations as the firm set out an ambitious drilling programme for the coming year.
The UK-listed oil and gas explorer's revenue remained stable at £1.5billion for 2012 from the previous year's £1.48billion, with pre-tax profits up by 4% at £717million.
The results confirmed previously-announced write-offs and asset writedowns totalling £431million after delays in exploration and poor drilling results in 2012.
The financial statement also confirmed a strengthened balance sheet, after a £1.86billion farm-down in Uganda and the refinancing of a £2.25billion reserve-based lending deal. Chief executive Aidan Heavey said: "2012 was a year of major progress for Tullow. The Jubilee field in Ghana is now approaching its full potential and provides the base for our production profile and operational cash flow."
He said the firm planned to drill more than 40 exploration and appraisal wells in Kenya, Ethiopia, Norway, Mauritania, Mozambique, Cote d'Ivoire and French Guiana.
Mark Ireland, of investment manager and financial-planning specialist Brewin Dolphin in Inverness, said: "The results were in line with expectations and, as such, the market focused much more on the exploration and disposal programme. Here the company was able to report positive results with the flow test from the Twiga South-1 well in Kenya better than expected."
Tullow's shares closed yesterday at £12.60, up 80p.