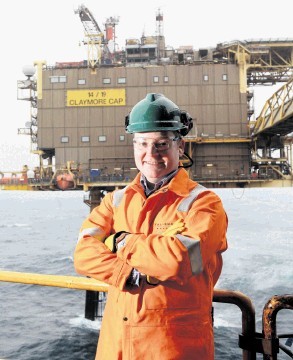 A North Sea oil boss will warn today on the danger of rising costs for offshore projects.
Geoff Holmes, chief executive of Talisman Sinopec Energy UK, is one of the speakers at Oil and Gas UK's activity survey breakfast at Aberdeen Exhibition and Conference Centre.
It emerged yesterday that oil companies were planning to splash out almost £100billion on projects in UK waters; delivering a major boost to the north and north-east economy. Thousands of jobs are being created and tens of thousands of people will be kept in work as the energy business makes its biggest investment for more than 30 years.
Mr Holmes will tell the breakfast audience: "We are fortunate to be involved in an industry that is experiencing a significant resurgence in investment.
"Over the next three-five years, more projects will be sanctioned.
"This bodes well for the future of the UK continental shelf business but, before we begin to think about the delivery and execution of these future projects, we need to focus on those already sanctioned and in the execute phase today. To maintain an economic return versus the investment risk in what are increasingly complex opportunities, the industry must work together to ensure that rising costs do not render these opportunities uneconomic."
Mr Holmes will tell the audience that his company's supply-chain spending last year was about £1.39billion, adding: "This year, we expect to increase this by around 25%, and we anticipate a further increase in 2014."
He said the plan was based on a growing activity set, which "might quickly evaporate if the demand/supply imbalances worsened in the short to medium term", adding: "The only outcome from this scenario is higher unit rates and a higher cost base for operators and contractors. My organisation has witnessed some significant requests for annual rate increases with 15-20% annual increases commonplace.
"As an industry, we cannot continue to absorb scale cost increases without this impacting current and future activity sets."
Mr Holmes will say his company is committed to working with its supply-chain partners "to enable mutual benefits to both operator and contractor of a reduced and more predictable cost base and improved margins".