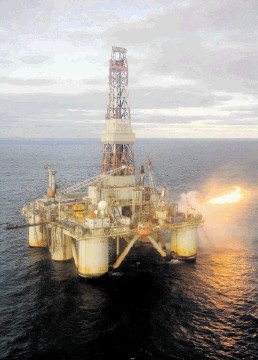 They are a small outfit but Serica Energy is quietly making strides.
With acreage offshore Morocco and Namibia and partners including BP, Genel Energy and Cairn Energy, the firm is looking at a busy 2013.
It is has plans for two exploration wells offshore Morocco, starting late this year, and its partner in Namibia, BP, is looking to decide mid-year on plans to drill there.
Serica – named after a Scottish-built tea clipper – is also sizing up assets offshore Ireland.
"Quite a few things are lined up and if they come off it will be positive for us in 2013," said Tony Craven Walker, the firm's chairman and long-term interim chief executive.
It's a long way from the North Sea and Indonesia-focused Serica.
After a string of dry wells in the North Sea halved the firm's share price in 2010 and a decision to exit human resource-draining Indonesia, the £48million market cap firm has refocused to have a portfolio now covering Morocco, Namibia, Ireland and the North Sea.
"We wanted to go to places with better tax rates, better potential and where we could attract industry farm-outs or joint ventures," said Craven Walker.
"It is frontier stuff where we see very big prospects with much more user friendly tax rates."
So far it seems to be working out.
Namibia
Serica's play in Namibia, south of Angola, was boosted when it brought on board BP, which gained a 30% stake in the acreage in return for covering the cost of some $45million of 3D seismic acquisition over 4,180sq km (1,613sq miles) shot last year – the largest offshore continuous seismic shot in Namibia, according to Serica.
If it then also decides to drill, which it would also pay for, BP will earn 67% equity in the acreage.
There are four basins offshore Namibia – Namibe, Walvis, Lüderitz and Orange. Fewer than a dozen wells have been drilled off the country's 1,600km (1,000-mile) coastline, making it largely unexplored. Tullow acquired the already discovered the Kudu gas field ilocated about 170km offshore.
Serica's acreage is in the Lüderitz basin. The 3D seismic confirmed prospects in 2D seismic, showing them as channel fans, multi-plays and with trapping mechanisms, according to Craven Walker.
"The question is the source rock, and if it is deep enough to have generated hydrocarbons," he said.
Chariot Oil & Gas drilled two wells in the area last year . . . both dry . . . and hopes to drill again this year were recently set back to 2014.
HRT, which also operates offshore Brazil – thought to bear similarities to offshore Namibia, is looking to drill offshore Namibia this year too.
Morocco
Offshore Morocco, Serica is in two blocks with Cairn and Genel, both of which are to drill one well each on the two blocks – with Serica's costs carried.
Foum Draa, operated by Cairn, is to be drilled late this year and Sidi Moussa (Genel), is targeted for drilling in the first half of 2014.
"The potential is there," said Craven Walker. "We have two big blocks with 34 different prospects identified. A decision on which will be drilled will be made in the first quarter."
The area's targets are pre-salt . . . "typical west African salt plays" with lots of other different structures that are drillable.
"A lot of companies are looking at it, it's seeing a mini boom. But when we went there no-one else was there and we couldn't understand why."
Ireland
"It is the same off Ireland," added Craven Walker. "The prospects we have there are very interesting."
Serica's offshore Ireland licences cover chunks of the Slyne basin off the west coast of Ireland – an area "on trend with the Corrib gas field" – and the Rockall basin, off the north-west coast.
The firm has had success there already – the Bandon oil discovery well (50% owned by RWE) drilled in the Slyne basin in June 2009.
It is now looking for partners to take forward exploration plans in Rockall.
"We have seen a very large clear structure with 3D seismic (the Muckish prospect) and we are ready to drill," said Craven Walker.
"It is close to an existing (Shell) discovery, Dooish, about 32km (20 miles) away. If we made a discovery there it would commercialise that whole area. We are looking at that as quite an exciting play."
However, to take its plans forward, this lean outfit needs a partner, with discussions currently under way.
It will also be looking for a partner to look at the Boyne and Liffey prospects, close to the Bandon discovery, targeted for drilling in 2014.
North Sea
On the UKCS, Serica's activity this year will include seismic in the York area in the Southern Gas Basin, a campaign to farm-out in order to drill the east Irish Sea Doyle prospect and assessment on the Premier Oil-operated Spaniard's discovery.
Serica's main hurdle will be getting the Columbus field through to first gas, it hopes by mid-2015.
Until then, the company will have a production gap it will be looking to fill after oil in its Indonesian Kambuna field reaches the end of its commercial life mid-this year, seeing a final close to its assets there.
For Columbus, waiting for partner agreement to use third-party infrastructure on which extra investment is needed to be sanctioned as part of yet another third parties' project – tied in with financing issues – has slowed down the project.
BG's tendering of a bridge-linked platform to its Lomond facility late last year, into which Columbus would be tied, has given some hope for the project. But finance is also an issue.
"You have to show DECC you have financing capability and the financial markets want to see government approval before they provide funds," said Craven Walker. "Everything depends on everything else.
"I think the government can help by relaxing some issues around access to infrastructure.
"The fundamental problem is lack of capital. The question is can we actually do it all in the current environment? I think we can."
Tony Craven Walker became chairman of Serica in 2004, after stints at Charterhouse and Monument, and took over as interim chief executive in 2011.
The AIM firm listed on the Toronto Stock Exchange in 2005.
Recommended for you

Namibia's next great hopes, beyond Venus and Graff