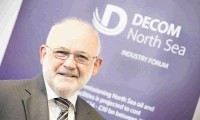 A conference focused on the challenges of major oil and gas decommissioning projects will be held in Aberdeen this month.
The first Decom Offshore event will highlight new technology which can improve safety and cut costs in decommissioning work, which is expected to top £1billion in the North Sea in the coming years.
It will be hosted by offshore oil and gas decommissioning forum Decom North Sea (DNS) at Aberdeen Exhibition and Conference Centre on Wednesday, March 27.
DNS chief executive Brian Nixon said operators and top contractors would be brought together at Decom Offshore. He added: "We are confident that it will identify widespread industry issues which can then be addressed through future projects.
"We hope that by hosting conferences like this, forthcoming projects are undertaken in the safest, most environmentally friendly and cost-effective way."